Nike Drafts an All Star
Purchase of Converse Dismays Fans of Classic Chucks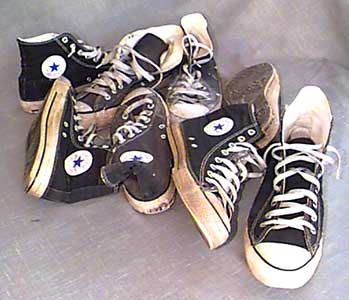 Will the allure of the Chuck Taylor shoe be trashed by Nike's takeover of Converse?
Converse Chuck Taylor All Stars are, for some, more than just a pair of shoes. The $35 thin canvas sneakers can be an emblem of the counterculture, a rejection of the mainstream, a lonely stance against the onslaught of consumerism. So it is with some consternation that many Chuck Taylor fans learned that corporate behemoth Nike swallowed up Converse last week.
Nike Inc. would pay about $305 million to acquire Converse Inc., of North Andover, Mass., in a deal announced July 9. Nike would also assume some of Converse's debt, though the amount was not specified.
On a Dupont Circle park bench last Sunday, community activist Marco Del Fuego, 38, was reading "Anarchism and Other Essays" and wearing his favorite shoes: black high-top Chuck Taylors.
"I love these shoes, but I'll never buy another pair again," he said. "I don't like Nike's labor practices in the Third World . . . you can't stop the corporate monster, man."
Across the park, two recent Barnard College graduates, Crystal Ho, 21, in black low-top Chuck Taylors, and Kristina Ernst, 21, with plans to buy, reacted with similar displeasure to the news.
"Oh, no," said Ho, who said she's been wearing Converse shoes since she was 12 and describes them as "mainstream but not mainstream . . . a little alternative." Ernst, who said she was aghast and dismayed about Converse's new owner, said she would get a pair within the week because "If I buy them before they're made under Nike rule then I could live with myself."
Nike, based in Beaverton, Ore., received similar criticism last year when it bought Hurley International LLC, a surfwear label based in Costa Mesa, Calif., but the furor died down after a few months when Nike did not change the Hurley products, said Joani Komlos, a Nike spokeswoman. "I'm very confident that's going to happen with Converse as well," she said.
Nike intends to operate Converse as a separate unit and has no plans to change the look of classic Converse shoes such as Chuck Taylors or Jack Purcells, Komlos said. She said Converse's senior management, including chief executive Jack A. Boys, will stay in place and no job cuts are planned. Converse has about 200 employees. Nike will probably intensify marketing for Converse while trying to keep the products' spirit and flair, Komlos said. The sale still requires regulatory approval.
Nike, of course, does not regard itself as the evil empire that its critics describe. The company has been criticized in the past about the working conditions in some of its overseas factories, but Nike says it is now a model employer. Such claims became the subject of a case before the U.S. Supreme Court last month, but the court declined to decide whether Nike could be sued for allegedly inaccurate statements about its overseas labor conditions.
"We feel confident that we have some of the best practices in the industry. We've come up with the strictest code of conduct and monitoring system in the industry," Komlos said.
Nike's purchase of Converse is intended to diversify business beyond the Nike brand's $9.5 billion in annual sales. Nike Inc., with a total of $10.7 billion in annual revenue, also owns Cole Haan, which makes upscale leather shoes, and hockey-gear maker Bauer Nike Hockey along with Hurley International.
Converse Rubber Co., founded in 1908 by Marquis M. Converse, began making canvas basketball shoes called All Stars in 1917. Chuck Taylor, once a pro basketball player for the Akron Firestones, redesigned the shoe in 1923 and drove around the country selling them out of the trunk of his Cadillac. About 750 million pairs of shoes have been sold over the years.
In Converse's heyday, basketball stars such as Larry Bird and Magic Johnson endorsed leather versions of the company's shoes, and the brand was the footwear of choice for many until the mid-1980s, when Michael Jordan and Nike swept onto the hoop shoe scene.
In the 1990s, Converse couldn't keep up with Nike's high-performance shoe innovations. Converse tried to diversify, acquiring clothing line Apex One in 1995, which proved unsuccessful. Converse also suffered from high production costs by keeping its manufacturing base in the United States.
Converse declared bankruptcy in 2001 and was bought out by Footwear Acquisitions Inc. The company closed all U.S. factories and shifted production to Asia. Since then, demand for the "retro" shoes has grown, and sales increased to about $205 million in 2002, up from $149 million the year before, according to a company filing.
For some longtime Converse employees, the news of Nike's purchase was tough to swallow. Joe Dean sold Converse shoes for 28 years until 1987, before becoming the athletic director at Louisiana State University.
"It was a sad day — because we were so successful for many years, and because so many of us had our hearts and our souls imbedded in the fabric of the company. We were the king of the hill for several years," said Dean, 73, who retired two years ago. Dean worked with Chuck Taylor, who died in 1969, and described him as "easygoing, laid back -- one of those people that everybody liked."
For other enthusiasts of the Converse brand, the Nike deal is exciting because more marketing will raise the Converse profile. The Converse brand "will stay strong," said former Converse chief executive Richard B. Loynd, 76. "Nike has enough money to keep it going strong. It will be good for all the employees at Converse, and it will be good for Phil Knight," Loynd said, referring to Nike's chief executive.
Joseph Selvocki, 38, who moderates the nearly 200-member Core Chucks Group, a Web forum dedicated to Chuck Taylors in their "core" colors, couldn't agree more. The Travelocity travel agent in Shenandoah, Pa., who has 24 pairs of Chuck Taylors, said the deal will help Converse add new colors and styles and give more kids a chucks experience like his own.
"I wasn't a jock, and I wasn't the most popular kid in school," Selvocki said. But as a high school freshman in 1978 he saw three football players walk by after school one day in black Chuck Taylor high-tops. He bought a pair and felt newfound strength. "It made me feel like one of the guys. You did feel like a jock. It emboldened me to go out for the golf team."
These days, the shoes appeal less to aspiring athletes than to those who appreciate their offbeat charm. The hard-core Chucks fans seem to style themselves as lone wolves, perhaps nostalgic, appreciative of simplicity or averse to the fickleness of fashion trends. For years, Converse All Stars have been the choice of the bad boys of popular culture, from John Travolta in Grease to the rock band the Strokes. Kurt Cobain died wearing a pair of black suede Converse "one-stars." To some fans, Converse represents the anti-Nike, and they worry that the new ownership may suck the cult out of a classic.
"People that buy expensive Nikes have more money than brains. They're followers. People that wear Chuck Taylors are leaders," said David Blackwell, 50, a freelance photographer who said he first bought chucks for $7 as a student at John Hanson Junior High in Oxon Hill. "There's no other better tennis shoe."
© 2003 The Washington Post Company
By Joshua Partlow
Washington Post Staff Writer
July, 2003
If you have an article or other information about Chuck Taylors to submit to this website, please contact us at mail@chucksconnection.com.