That Iconic Converse Shoe Steps Into Centennial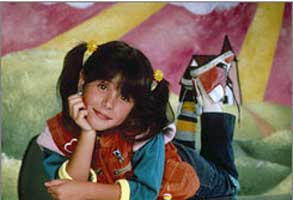 Punky Brewster: Soleil Moon Frye mismatched the shoes. Harry Potter: Daniel Radcliffe, right, with Gary Oldman, and in chucks.
Converse celebrates 100 years in the shoe business this year. Judging by its fans in rock 'n' roll, Hollywood and the rest of pop culture, though, it still acts like a teen. So how does the footwear manage to remain so cool? "I think it was just a product that was good to begin with, and it was unique," says Hal Peterson, author and creator of ChucksConnection.com. USA TODAY takes a look back at some of Converse's notable moments from the past and where the brand can be seen today.
MUSIC
Then: In the '70s, The Ramones helped Converse become associated with rock 'n' roll, even though The Beatles and Beach Boys had sported the shoes earlier. Last year, Converse honored the punk pioneers by releasing a line of Ramones-themed Chuck Taylors.
Now: Pop-punk songstress Avril Lavigne is a Converse fan, as is rapper Common, rockers Green Day and Grammy winner Amy Winehouse. Paul McCartney also has been spotted in chucks; he wore them in a 2007 iTunes commercial.
TELEVISION
Then: Punky Brewster was known for her mismatched Chuck Taylors in the '80s, but the sneakers surfaced much earlier on the small screen. Viewers glimpsed Converse in the '50s on "Lassie". "Happy Days", "Northern Exposure", "Wonder Years", and "Felicity" are a few of the many series that have shown the shoes.
Now: Chuck Bartowski from NBC's "Chuck" wears Chuck Taylors. Other Converse fans: BBC America's "Doctor Who", played by David Tennant; characters on NBC's "Heroes" and Shane on Showtime's "The L Word".
MOVIES
Then: Sylvester Stallone trains in black Converse throughout 1976's Rocky. Peterson cites Hoosiers (1986) and West Side Story (1961) as significant films featuring Converse. "That was an interesting phenomenon, the fact that they were identifying gangs by their athletic shoes," he says of West Side Story. "The Sharks wore the black and the Jets wore the white (shoes)."
Now: What does the young wizard wear in Harry Potter and the Order of the Phoenix? You guessed it. The title character [played by Anton Yelchin] in the recent teen flick Charlie Bartlett also sports Chuck Taylors. In 2006's Marie Antoinette, director Sofia Coppola made headlines when she inserted a pair of pink chucks into her period piece.
CELEBRITY LIFE
Then: "Gonzo journalist" Hunter S. Thompson was a fan of Converse. His image appears in the company's new "Connectivity" anniversary ad campaign alongside James Dean, the Sex Pistols' Sid Vicious, hip-hop artist M.I.A. and others.
Now: Ellen DeGeneres dances in Chuck Taylors on her talk show and on the red carpet. Other stars frequently seen in Converse: Johnny Knoxville, Natalie Portman, Elijah Wood and Ellen Page.

She Can Count On Chucks: Cheap, Comfy and Cool

USA TODAY's Pop Candy blogger shares her obsession with chucks:
Look, I'm not a "shoe person."
I know about as much about footwear as I do about neurochemistry, which is nothing. My closet contains just a handful of pairs, tossed beneath this week's laundry.
I do consider myself somewhat of an authority on Converse, though. I've been wearing black, low-top Chuck Taylor All Stars since my teens, and I imagine I'll still be rocking them in the retirement village.

What sparked the connection? For one thing, they were fairly cheap, which left me more money for music and movie tickets. They were also comfortable — I've never been too hot on heels or wedges or whatever women are struggling to walk in these days.
It's also safe to say I was initially drawn to Converse because I liked the people I saw wearing them.
After all, these are the shoes The Ramones stood in at New York rock club CBGB, soaked to their ankles in cheap beer. The sneakers surface in most movies I watched repeatedly in the '80s, from The Breakfast Club to The Outsiders to Footloose. Kurt Cobain dug chucks, as did Hunter S. Thompson, Joan Jett and James Dean. More often than not, I could depend on Converse owners to be doing interesting things with their lives.
And speaking of dependable, that's another reason I haven't abandoned the shoes: they never change. Every 10 months or so, when I begin to feel a breeze at my heels, I know it's time to upgrade. I love how I don't even need to try them on; I can just point, pay and stroll out the door.
Ask me to conjure the best moments of my youth — happy, rebellious, curious memories — and all I have to do is gaze at my feet. I've even started saving my used chucks because it has become too difficult to toss them out. Now, each time I retire a tattered pair, I slip them into a box with a list of places they've traveled.
I'm not surprised Converse has reached its centennial, and I fully expect the company to last another 100 years.
Then again, what do I know? Like I said, I'm not a "shoe person".
Take away my chucks, though, and I just might change my mind.

By Whitney Matheson
Whitney Mattheson is a feature writer for USA TODAY
March, 2008
If you have an article or other information about Chuck Taylors to submit to this website, please contact us at
mail@chucksconnection.com

.