A ChucksConnection Film Review
Benjamin Bratt wears black low top Converse "Chuck Taylor" All Stars in the film.
Blood In, Blood Out
by Marcus Angulo
A getaway gone wrong.
There are certain movies that tend to be a right of passage for many of us growing up. Our parents sit us down in front of a movie they grew up seeing, and from then on, our brains will always associate that film as a part of upbringing. Every culture has their own set of these films, with different films having different meanings to certain cultures. For Mexican Americans, films like La Bamba, American Me, Selena, Mi Familia, and Stand and Deliver were staples on TV sets growing up, telling stories of our fallen heroes and everyday life in the barrio. Blood In, Blood Out has become a cult classic in Mexican-American culture, as its portrayal of life as a Chicano in East Los Angeles in deeply personal to many. The film follows the intertwining lives of three members of one Chicano family over the course of twelve years. Through their time as members of a street gang in East LA, their lives and friendships are forever changed, but their family spirit is never lost.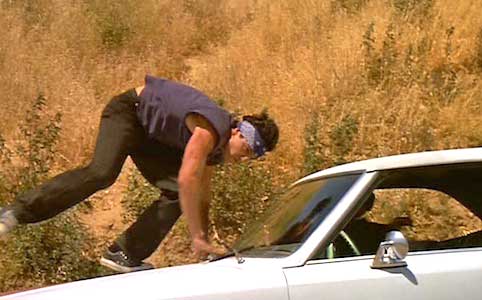 Start the car!
The film follows the trio of cousins Miklo Velka (Damian Chapa), Cruz Candelaria (Jesse Borrego), and Paco Aguilar (Benjamin Bratt). When Miklo moves back home to East LA, he is reunited with Cruz and Paco, and he lets them know he wants to join their gang, Vatos Locos. They initiate by having him attack their rivals, Tres Puntos, which then leads to retaliation from Tres Puntos when they brutally attack Cruz. This damages his back for life, and leads to Vatos Locos executing some retaliation of their own. However, things go haywire when Miklo is shot by the rival gang's leader, Spider. Paco tries to rush Miklo to the hospital while evading the cops, but he runs his car into a tree and they're both arrested. From here, the trio is split up as Miklo is sent to San Quentin State Prison for murder, Paco volunteers for the United States Marine Corps to avoid prison, and Cruz continues his passion for art. However, Cruz's back pain leads him to becoming a heroin addict, and subsequently being disowned by his family.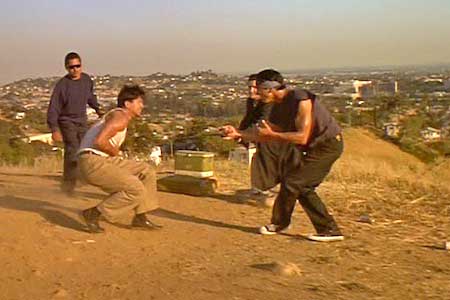 Paco and the rest of Vatos Locos look to finish their fight against Tres Puntos.
Paco leaves the Marine Corps, and becomes an L.A.P.D. narcotics detective upon returning to Los Angeles. During this time, Miklo finds trouble adapting to prison life. San Quentin is run by three prison gangs, all of whom are based on their racial backgrounds: The Black Guerrilla Army, the Aryan Vanguard, and La Onda. La Onda's members do not initially accept Miklo until the leader of the gang, Montana, tells him that the only way into the gang is to kill an enemy inmate. Miklo kills the inmate known as Big Al, and is initiated into La Onda. He is later promoted to its Ruling Council, and is granted parole after serving nine years in prison. After this, the lives of Miklo and Paco intersect like before, but this time they stand on opposite sides of the law. Paco ends up sending Miklo back to prison after foiling a robbery of his, and from there these two cousins will continue to butt heads in exciting and tragic ways.
Many of the other gang members wear chucks.
Blood In, Blood Out is an authentic look at the lives and culture of Chicanos in East Los Angeles. It highlights the plight and familial bond that is shared in Mexican-American culture, and stays true to the looks of the culture by having many characters of Vatos Locos and La Onda wear pleated khakis, button ups, and chucks, including Benjamin Bratt's Paco. The acting in the film is excellent, with Chapa and Bratt both being standouts as they make you feel both the bond and heartbreak through the relationship of their characters. Blood In, Blood Out is a staple of Chicano cinema, and it's not hard to see why. So whether you grew up watching it on weekends with your family and are feeling nostalgic, or if you're a first time viewer, Blood In, Blood Out is a definite watch.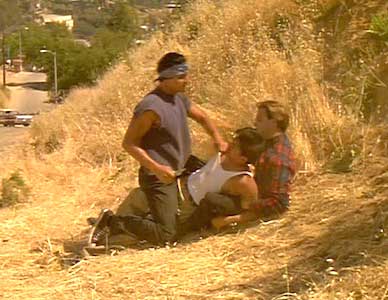 Benjamin Bratt wears black chucks as Paco.
Best Chucks Scene


"Vatos Locos forever carnal."
The best chucks scene in this film is definitely the scene in which Vatos Locos retaliate against Tres Puntos. In this scene, Paco is decked head to toe in black garb, including a pair of pristine black chucks. During the fight that breaks out, we see Paco's chucks as he fights Tres Puntos' leader, Spider, and as he runs from the rest of the gang. We also see Paco's chucks as Miklo and he are arrested. This scene is not only great for it's faithfulness to Chicano garb, but also because it acts as a turning point for the whole film. This is the moment where everything changed for all three cousins, for better and for worse.
Blood In, Blood Out. (1993) Benjamin Bratt, Damien Chapa, Jesse Borrego, Enrique Castillo, Victor Rivers. Directed by Taylor Hackford.
Categories: Crime, Drama.
ChucksConnection Rating:

MPAA Rating: R
Support the film industry by purchasing genuine DVD, Blue Ray, or streaming copies of these films. Illegal copies only help profiteers. Make sure your money goes to the producers and artists who actually create these films. Still images from the film are used here as teasers to get you to view an authorized copy. If you have information about a film where a main character wears chucks, contact us at films@chucksconnection.com.