A ChucksConnection Film Review
Sylvester Stallone wears black high top Converse "Chuck Taylor" All Stars in the film.
Creed II
by Marcus Angulo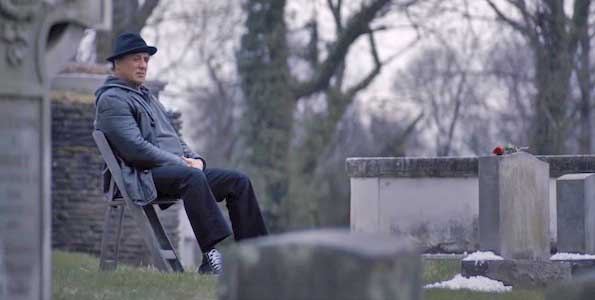 Rocky Balboa reflects in his black high top chucks.
Legacy. What is a legacy? The Rocky franchise is steeped in the legacy and traditions of boxing, America, and family. Its successor, the Creed franchise, takes that legacy and builds on it to create something beautiful and moving. Following Adonis Creed, the son of Rocky Balboa's former rival turned friend Apollo Creed, Creed showcases Donnie's journey into his own man and his own fighter under the mentorship of Rocky. Its sequel, Creed II, continues that story while adding new layers to Donnie's story. Directed by Steven Caple, Jr. and starring Michael B. Jordan, Tessa Thompson, Phylicia Rashad, Wood Harris, Florian Munteanu, Dolph Lundgren, and Sylvester Stallone, the film was released in 2018 and went on to gross over $215 million.
Rocky trains the next generation of fighters at Mickey's gym in Philly.
Three years after his loss to "Pretty" Ricky Conlan in Creed, Adonis "Donnie" Creed (Jordan) has won six straight bouts, culminating in a victory over Danny "Stuntman" Wheeler to win the WBC World Heavyweight Championship. Now a bonafide superstar, Donnie proposes to his girlfriend, Bianca (Thompson), who agrees to marry him. They decide to start a new life together in Los Angeles, even though leaving Philly means leaving his trainer and "Unc", Rocky Balboa (Stallone). Meanwhile, Ivan Drago (Lundgren), the former Soviet boxer who killed Donnie's father Apollo Creed in the ring but then lost in disgrace to Rocky, seeks to regain his glory. Approached by promoter Buddy Marcelle, Ivan pits his son, Viktor Drago (Munteanu), against World Champ Donnie. However, Rocky refuses to support Donnie's decision to accept the challenge, telling him that it's not what his father would have wanted. They argue and Donnie leaves for Los Angeles with Bianca planning to take the fight.
Waiting for some good news.
Donnie and Bianca move into a luxurious apartment in Los Angeles near Donnie's adoptive mother and Apollo's widow, Mary Anne (Rashad). Donnie trains and prepares for the fight with Tony "Little Duke" Evers, the son of his father's trainer. However, during training, Bianca learns that she is pregnant. Overwhelmed by all these changes and the unfamiliarity in his life, he rushes into the match and is badly injured. Viktor is disqualified for hitting Donnie while he is down, which allows Donnie to retain the World Heavyweight Championship. However, Viktor becomes a hero in Russia and wins a series of fights as the "uncrowned champ". Physically and emotionally beaten and broken, Donnie becomes increasingly distant from Bianca. Mary Anne reaches out to Rocky, who reconciles with Donnie and agrees to train him for a rematch against Drago. Bianca gives birth to a daughter, Amara, and Rocky is named her godfather. With newfound love and passion in his heart, Donnie trains with Rocky to avenge his "loss" and his legacy.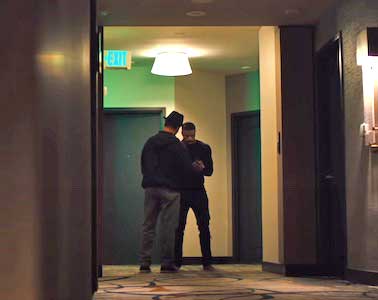 Donnie and Unc have a heart to heart.
This is another stellar entry in the Rocky/Creed franchise. Despite the loss of original director Ryan Coogler due to scheduling conflicts, the film is still beautifully shot and put together by Steven Caple, Jr. Michael B. Jordan is a bona fide movie star and he commands the scene whenever he's on the screen. Stallone still brings so much emotion and love to the character of Rocky Balboa and his chemistry with Jordan makes you believe that they are family to one another. The fight scenes are still amazing and have such weight and impact to them you can't help but want to cheer whenever a punch lands. Creed II perfectly carries on the legacy of this classic franchise, combining sports with raw emotion and real characters.
Under a street lamp, Donnie and Rocky disagree on whether he should fight Drago.
Best Chucks Scene


Rocky prepares some hardcore training for Adonis in the barren California desert.
The best chucks scene in the film comes while Donnie is training with Rocky and Little Duke. In a decrepit location in the California desert, they retrain Donnie to focus on fighting from within and to absorb the heavy impact he will receive from Viktor in the ring. Rocky is still dressed in his classic black high top chucks, which he previously wore in Creed. Rocky really gives it to Donnie during this incredible montage, beating his body and putting him through incredible endurance trials. Rocky in chucks always made sense, as he's a no-frills American icon just like chucks. They make even more sense in this scene where the training is so back to basics and raw. This is an incredible montage in a franchise that is full of them!
Rocky's chucks have been weathered by the desert dirt and wind.
Creed II. (2018) MIchael B. Jordan, Sylvester Stallone, Tessa Thompson, Phylicia Rashed, Dolph Lundgren, Florian Munteanu. Directed by Steven Caple, Jr.
Categories: Drama, Sports.
ChucksConnection Rating: MPAA Rating: PG-13.
Support the film industry by purchasing genuine DVD, Blue Ray, or streaming copies of these films. Illegal copies only help profiteers. Make sure your money goes to the producers and artists who actually create these films. Still images from the film are used here as teasers to get you to view an authorized copy. If you have information about a film where a main character wears chucks, contact us at films@chucksconnection.com.