A ChucksConnection Film Review
Thor Braun wears black high top Converse "Chuck Taylor" All Stars in the film.

The Little Gangster (De Boskampi's)
by Taylor Bathel
Rikky's new look includes greased hair, a black leather jacket, white tee shirt, blue jeans, and black high top chucks.
In the Dutch film, De Boscampi's (translated: The Little Gangster), the apple doesn't fall far from the tree: young Rik Boskamp (Thor Braun) is bullied just as ruthlessly as his nerdy father, Paul (Henry van Loon). Rik aches to reinvent himself, and gets just the chance when his father's job relocates them. Determined to gain respect among his new peers, Rik devises a plan: he'll pretend that Paul's a mob boss. No one messes with a mobster, nonetheless a mobster's son. So with slicked back hair, sunglasses, a leather jacket, and a brand new pair of black high top chucks, Rick struts around his new town, claiming his new status. His plan works like a charm.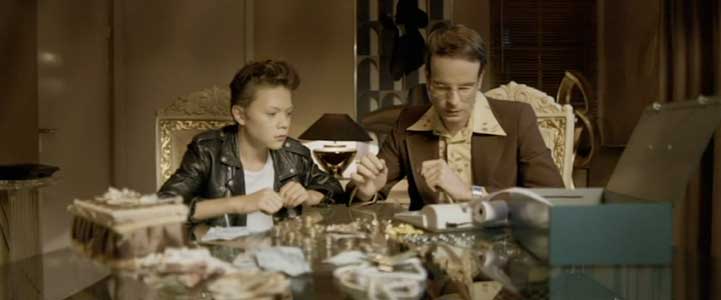 Rikky discovers that his dad is a very good accountant.
No one dares to mess with Rik, fearing the wrath of his notorious father—who is oblivious to the whole charade. Rik strategically allows the gossipy neighbors to "overhear" his story, and floats a few well-placed comments to his peers. Soon enough, he's a legend—with a bodyguard in tow to build his case in the schoolyard. It's not just kids that fear Rik and his father, but the entire town. Paul feels the reverberations of the lie through unexpected respect from neighbors trying to get on his good side—from mowing his lawn, to eagerly supporting anything he supports. Rik basks in the attention, which is presented all in good fun, with constant silliness.
Rikky and his friend walk into his new school.
Every scene is playful, which works well to build the characters in a unique way. Rik endearingly pulls his swagger inspiration from an old film, acting with overstated mannerisms. He uses goofy facial expressions, and can make the most cliché gesture seem modern and mockingly fun. The same goes for Paul in the opposite persona. Paul's clumsy character is built through examples: dropping his briefcase, and easily falling victim to telemarketers. Rarely does he speak, but his body language in these scenes paint the amusing picture of his awkwardness. And this theme doesn't stop at main characters—each minor character has exaggerated qualities and jokily fulfills a stereotype.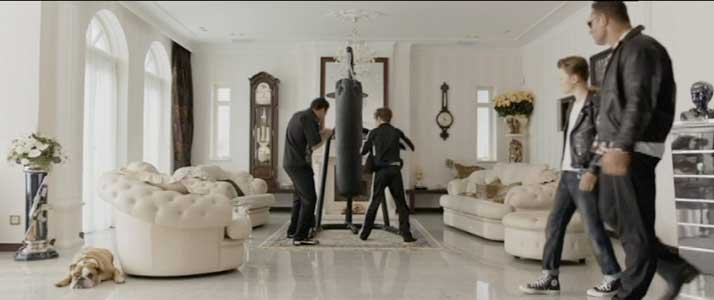 The real Boskampi's bring Rikky in to find out what is going on.
De Boscampi's is a fast-paced comedy, with witty humor at every turn. Every bit of this film was built for laughs, with quick camera movements to mimic the high energy. The real beauty of the film is that you're truly in a pickle on whether it was made for kids or adults. The humor surpasses age—kids are drawn by the clear connection to the main character, Rik, while adults can appreciate the cleverness of the film direction and character array. Plus, again, it's just downright funny. It's a film parents can feel good about showing their kids, too, as it does sneak in valuable lessons on honesty, family, and true strength along the way.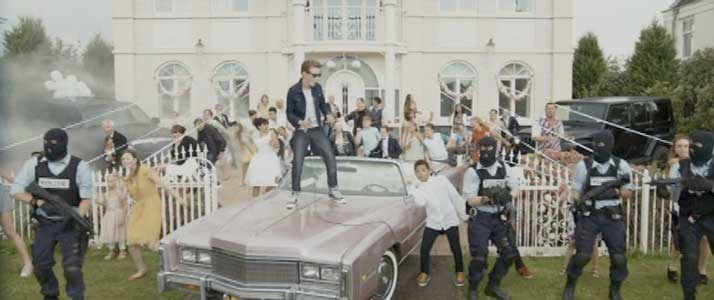 Rikky is the life of the party.
Best Chucks Scene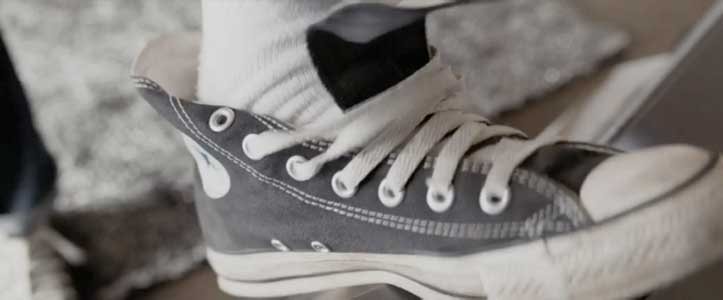 Rikky puts on a new pair of black high top chucks.
Black high top chucks are an important part of Rikky's look as the son of a gangster. They are featured a lot in the cinematography throughout the film. There are a number of closeup shots throughout the film. The most distinctive is when Rikky first puts on his new clothing and greases down his hair. The camera then focuses on him putting on and lacing up a brand new pair of black high top chucks. It's ironic that Rikky's gangster look is exactly the same look as a fifties greaser, like a character in the film Grease.
Rikky laces up his black high top chucks for the first time.
Rikky keeps his black high tops looking pristine, as seen in this shot from later in the film.
De Boskampi's (The Little Gangster). (2015) Thor Braun, Henry van Loon, Meral Polat, Rene van t' Hof, Rick Lens, Thijn Brobbel. Directed by Arne Toonen.
Categories: Comedy, Family.
ChucksConnection Rating:

MPAA Rating: Not rated, would be PG
Support the film industry by purchasing genuine DVD, Blue Ray, or streaming copies of these films. Illegal copies only help profiteers. Make sure your money goes to the producers and artists who actually create these films. Still images from the film are used here as teasers to get you to view an authorized copy. If you have information about a film where a main character wears chucks, contact us at films@chucksconnection.com.