A ChucksConnection Film Review
Zachary Gordon, Devon Bostick and Laine MacNeil wear black high top Converse "Chuck Taylor" All Stars in the film.
Diary of a Wimpy Kid: Rodrick Rules
Brandon L. Summers
Greg Heffley continues to struggle with growing up in Diary of a Wimpy Kid: Rodrick Rules.
Diary of a Wimpy Kid: Rodrick Rules continues the story of young Greg Heffley (Zachary Gordon), his slacker punk brother Rodrick (Devon Bostick), his oblivious parents (Rachael Harris and Steve Zahn), best friend Rowley (Robert Capron), comic relief Fregley and Chirag (Grayson Russell and Karan Brar), and tough girl Patty (Laine MacNeil). All cute kids. Now, Greg is entering the seventh grade and has rid himself of the accursed cheese touch. The film makes this explicitly clear, that we won't be revisiting those topics. Greg knows where he stands and what kind of person he is. This time, he's obsessed with new girl Holly Hills (Peyton List) and we see all the ways he fails to impress her, although he has far fewer schemes this time around. Meanwhile, Mom wants Greg and Rodrick to get along better, and offers fake money for every time they get along. As Greg points out, this allows Rodrick to get paid to torture his brother.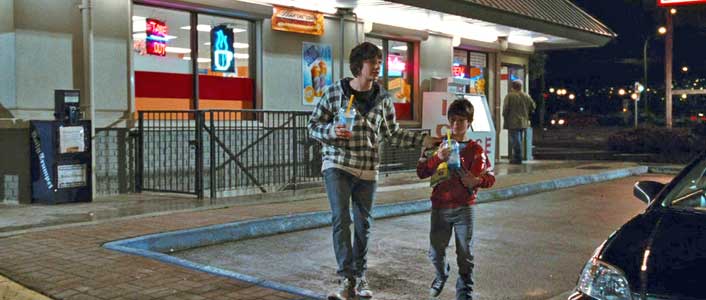 Rodrick and Greg, temporarily on good terms, are having fun at the mall.
Various comedic bits ensue, including an attempt to make a hit YouTube video, an unfortunate and humiliating stain on the back of Greg's trousers (It's chocolate!), Greg getting saved from the skate rink in front of all his peers, a love note going awry, and the new guy in the band coming to dinner. The plot gets going when the parents go away, and Rodrick throws a wild party. They come back early, and have to clean up and replace a bathroom door. Rodrick's explanation to why the door suddenly doesn't have a lock is hilarious. Greg could have caved under Mom's interrogation, but keeps his brother's secret, earning Rodrick's respect. Rodrick then gives Greg some tutelage. His advice: do badly so no one will ask you to do anything, and set others' expectations of you really, really low. Not bad advice, but nothing new. They even hang out, playing pranks on people in parking lots at night. It's actually kind of sweet, their being friends.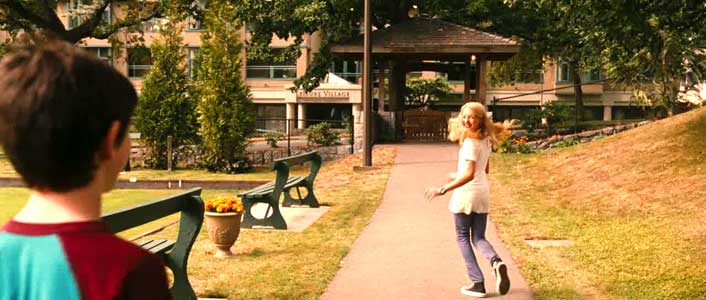 Greg has his eye on the very attractive Holly Hills.
Everything goes sour when Greg turns in a (hilarious) history report written by Rodrick, and when the parents find out about the party, and Rodrick finds out that Greg did tell, but it was kept a secret. Rodrick then resumes torturing his brother, getting damning video of him running around a retirement home, chasing after his journal and its intimate secrets, in his little boy undies and hiding behind a plant. It ends with Greg being attacked by old ladies. There's a complete waste of time subplot about pretending to ignore Chirag at school.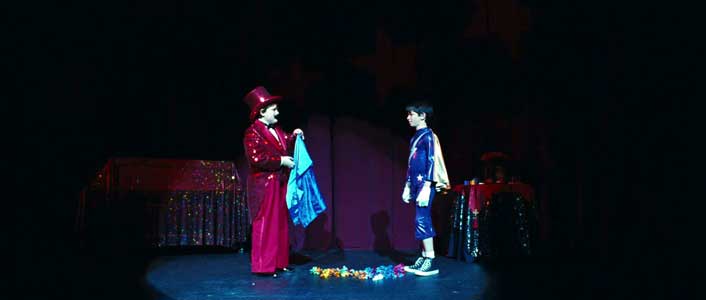 Greg ends up being Rowley's assistant in the magic show.
The big climax is the talent show. Rowley needs a lovely assistant for his magic show. Greg had refused, because the only thing lamer than a magic show is being the assistant. When Mom refuses to let Rodrick play with his band in the show, Greg sacrifices his dignity again. He'll help Rowley if Mom will let Rodrick play. This doesn't seem like too good of a message. You should always be there for your friends. Period. But the magic show goes wonderfully. A lesson is learned: they'll always be brothers and be there for each other, but friendship is pushing it.
Greg and Rodrick are exiled to their grandfather's retirement home.
Diary 2 is a lesser sequel. I was impressed with how insightful and clever the first film was, despite its more scatalogical humor. This film offers less insight, and a less solidly constructed plot. It's more a collection of bits and pieces that only barely comes together. Other elements float away, adrift, unresolved. I can't imagine next year's Diary of a Wimpy Kids: Dog Days being much better. Even this film's primary audience will wish this film were more of an effort. But, it does have appealing actors and it does have real filmmaking. Its not an obscene CGI mess like Transformers 3, which claims to be a kids film, or irritatingly patronizing, like Judy Moody and the Not-Bummer Summer. This does have some heart. There are worst things you can feed your kids.
There are many great chucks shots in the Diary of a Wimpy Kid films.
Best Chucks Scene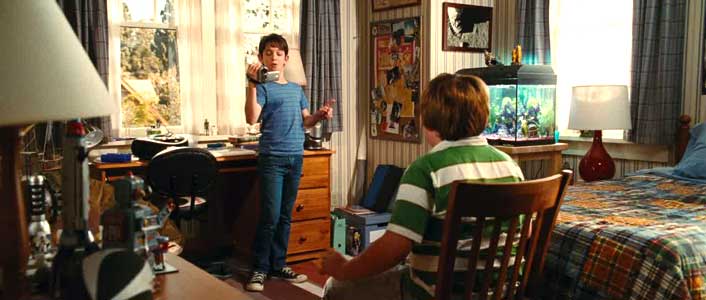 Greg and Rowley are making a YouTube video.
There are many primo shots of Greg's black high top chucks, which he wears throughout the film. In one scene, he explains to Rowley how they will be immediate stars with a YouTube video.
Rodrick getting out of the family van at church.
Rodrick wears grey slim chucks occasionally. In a moment of sublime cruelty, he steps on the sweater trailing behind Greg, forcing it to fall off Greg's waist and reveal the stain on his pants he was trying to hide. Holly also wears black high top chucks in her scenes.
Holly and Greg walking together.
Diary of a Wimpy Kid 2: Rodrick Rules. (2011) Zachary Gordon, Devon Bostick, Robert Capron, Rachael Harris, Steve Zahn.
Directed by Rob Turner. Categories: Comedy, Family.
ChucksConnection Rating:

MPAA Rating: PG
Support the film industry by purchasing genuine DVD, Blue Ray, or streaming copies of these films. Illegal copies only help profiteers. Make sure your money goes to the producers and artists who actually create these films. Still images from the film are used here as teasers to get you to view an authorized copy. If you have information about a film where a main character wears chucks, contact us at films@chucksconnection.com.