A ChucksConnection Film Review
Joshua Jackson wears black high top Converse "Chuck Taylor" All Stars in the film.
Digger
by Hal Peterson
Billy shows Digger the flyer for Rosemary's dance recital.
As the title credits are shown, we see young Digger (Adam Hann-Byrd) traveling on a ferry to an island in the Pacific Northwest. We learn that he has been sent to spend the summer with his Aunt Anna (Barbara Williams) and Uncle Sam (Timothy Bottoms) because his parents are divorcing and his mother needs some time alone. We find out that Digger received his name because of the fact that when he wanted to escape from trouble at home he would dig a hole in his backyard and crawl under the fence. Indeed we see him digging a hole in his aunt and uncle's backyard because he is despondent about his situation, and wants to return to his mother. Into the backyard comes Billy (Joshua Jackson), a neighborhood boy who we learn is dying from leukemia complications. Having heard that Digger was coming, Billy wants to reach out and build a friendship with someone his own age. A voracious reader, Billy compares his situation to that of Captain Nemo in 20,000 Leagues Under the Sea, and Digger's to that of Captain Harding, two castaways in splendid isolation who need each other. But when they first meet at the hole Digger is creating, Digger is put off by Billy's forward manner, and leaves Billy by himself in the hole. Billy, who has trouble moving around is unable to climb out of the hole. With no one to help him, Billy soon goes into a trance, and we learn of another side of Billy's nature — an uncanny ability to commune with nature. Eventually he is rescued by his mother (P. Lynn Johnson).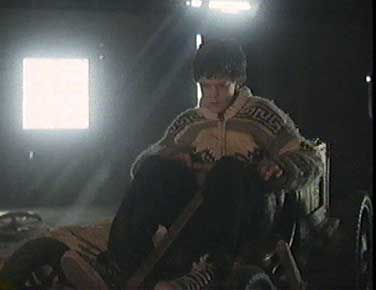 Due to his weakened condition, Billy often rides around the island in a wagon his dad built for him.
At their next meeting, the two boys begin to become friends, and soon they are exploring the island together. As their friendship grows, they begin to confide in each other, and we learn of Billy's bravery in the face of his medical condition, his unwillingness to blame others or become despondent, and his adolescent crush on Rosemary Malone (Gabrielle Miller), an older girl in the neighborhood. This has a positive effect on Digger, and gradually he begins to open up. At the same time, Digger brings to the friendship his more "worldly" experience as a normal boy; he knows how to have simple fun and talk to girls, two things that are difficult for Billy. We also meet the other members of Billy's and Digger's family, Anna's mother Bea (Olympia Dukakis) who takes Digger under her wing, and her boyfriend Arthur (Leslie Nielsen) who gives the boys some advice about women. Another family complication is that Sam and especially Anna are still recovering from the accidental drowning of their two-year-old son a year ago. The story line builds around these various issues and circumstances as we see Digger begin to understand his family, learn to appreciate nature, and experience the positive power of friendship.
Digger and Billy bring Sam and Anna a memorial seedling at the cemetery
While nominated for a couple of Genie awards in Canada for Best Musical Score and Art Direction/Production Design, Digger has not received much publicity or attention in the United States despite the presence of quality American actors. Probably this is due to its Canadian origins, melancholy themes, and the fact that the film doesn't preach or become maudlin. Like The Cure, Digger is a film about the impact of friendship on two young kids that doesn't fit the commercial American film marketing strategies, because it refuses to go over the top or rely on heavy-handed techniques to present its message. Its subtleties require several viewings to appreciate. Joshua Jackson gives an exceptionally fine performance as the introspective and thoughtful Billy, desperate to reach out to someone his own age before his disease takes him out, yet very brave and uncomplaining about his fate. Jackson's performance grows on you because he never yields to the temptation to overact or hide his intellect. Adam Hann-Byrd's portrayal of the title role takes some getting used to at first, until you realize that his reactions to events and people — which often include no response or staring off into space — are very typical of a young boy going through the breakup of his family, and separation from his mother. The screenplay is very circumspect about the way that it reveals Digger's personality and inner thoughts; throughout most of the film the narration is done by Billy. It would have been nice to see a little more presence from Leslie Nielsen and Olympia Dukakis in the screenplay, as they give the film some humor and the point of view of the grandparent generation. But the film really isn't about adults; it is about the effects of friendship on two adolescent boys finding themselves dealing with life and death issues. Robert Turner's directing debut allows each character to be themselves; this "no-meddling" approach makes the characters seem like real people not actors. Events move at a normal enough pace to seem uncontrived and the film emphasizes relationships. The film is beautiful to watch, and you will find that it grows on you.
Billy has a crush on his beautiful neighbor, Rosemary, but is tongue-tied whenever they meet.
Best Chucks Scene
Digger helps Billy lace up his chucks.
Joshua Jackson wears black high top chucks throughout the film in his role as Billy. There are a few close up shots, but the best two scenes involving chucks are very brief yet significant moments in the friendship between Billy and Digger. One is where you see Digger helping Billy, who has a lot of trouble moving around, lace up his chucks. The other is when Billy convinces Digger to imagine that he is free like the birds, and the two soar off a cliff in their imaginations.
You see Billy and Digger climb up the cliff, and then the two of them soaring off the cliff in their imaginations.
Digger. (1993) Timothy Bottoms, Olympia Dukakis, Adam Hann-Byrd, Joshua Jackson, Lochlyn Munro, Gabrielle Miller, Barbara Williams, Leslie Nielsen.
Directed by Rob Turner. Categories: Family, Drama, Coming of Age.
ChucksConnection Rating:

MPAA Rating: PG
Support the film industry by purchasing genuine DVD, Blue Ray, or streaming copies of these films. Illegal copies only help profiteers. Make sure your money goes to the producers and artists who actually create these films. Still images from the film are used here as teasers to get you to view an authorized copy. If you have information about a film where a main character wears chucks, contact us at films@chucksconnection.com.