A ChucksConnection Film Review
Michael Angarano wears black high top Converse "Chuck Taylor" All Stars in the film.
The Final Season
Brandon L. Summers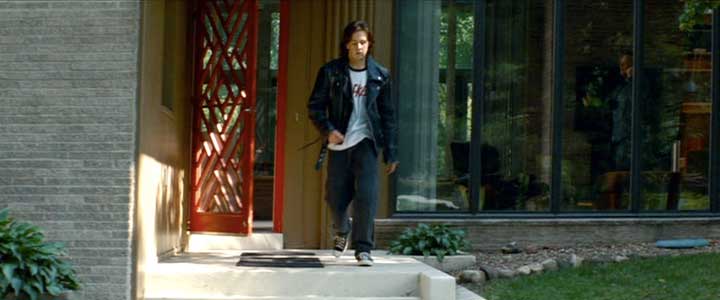 Mitch is a rebellious kid from Chicago who gets sent to live with his grandparents by his father.
The Final Season is being compared to Friday Night Lights for its being about a whole town passionate about its defining sport. The comparison ends there, though, because where the latter is about an aggressive passion for a violent sport that can be played dirty, the former is about noble, good old fashioned baseball, small town folks and their folksy values. The film begins with the Norway, Iowa, high school baseball team winnings its 19th straight state victory. Celebrating, we get statements from townspeople like "Thank God for baseball" and "This town IS baseball." Coach Van Scoyoc ("wise" Powers Booth) is helped by a new assistant coach Kent Smith (Sean Astin, who also produces). Smith left his position as a volleyball coach at another school for this opportunity. Norway is THAT great. After the team wins comes the bad news. The state wants to close the school and send the kids to neighboring Benton. The state, through its school principal puppet Harvey (Marshall Bell, the second worst actor ever) tries to explain why it's the best move, but the town objects! They say it'll hurt their local economy and the student-teacher ratio is lower here, but, really, this being a baseball movie about a town that really, really loves baseball, it's hard to believe they care about anything else other than their winning team. Representing Des Moines, Polly (Rachel Leigh Cook) tells them it will save the state money and the kids will get more academic opportunities, but she's shot down by Smith's folksy passion. A petition is started while Smith works to further persuade Polly, which doubles as wooing her.
Mitch takes some time to get used to the completely different Iowa lifestyle.
A subplot begins about the crappy relationship between businessman Burt (Tom Arnold) and his rebellious son Mitch (Michael Angarano, star of Sky High). Mitch smokes and wears a black leather jacket, so clearly needs straightening out. Burt takes Mitch to Norway, where he dumps the lad with Grandpa (withering James Gammon) and Grandma (Angela Paton). They're funny, wise sorts who know just how to respond to an unruly kid like Mitch. It turns out Burt was no different, an irony completely lost on him. Mitch gets bored being in a small town where you can't score weed, so gramps tells him to put his heart in his something. He's pretty good at baseball... Meanwhile, it turns out the petition is worthless and the school will be closed. The baseball team will get to play one last season, but Van Scoyoc must resign. That evil principal! This is a true story, but it is clear that Harvey just hates small town values. They hire Smith to be the coach, hoping the team will lose so they don't become martyrs and the transition goes more smoothly. Polly hears this plan, but even though she's already fallen in "like" with Smith and they friend around, she doesn't ever bring it up.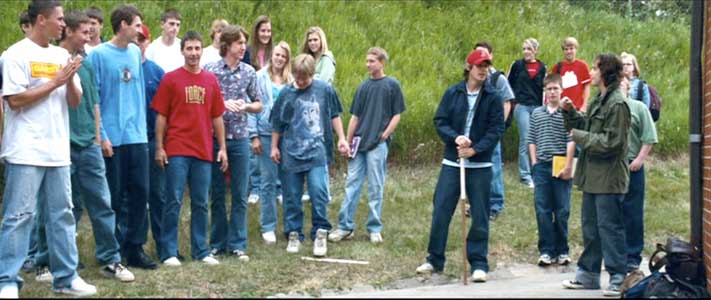 Mitch is challenged to participate in a stickball batting contest.
The season starts. After one hour of talk about how important baseball is and the underlying manipulations of this deal, they finally begin... practice. The town (bizarrely) thinks the team will lose because the old coach is gone and some of the best players have resigned in protest. The remaining players are apathetic. Mitch is among them now, but, his story done, he really contributes nothing in terms of plot or dialogue. Polly is relegated to cheering in the stands, done, too. The team is now followed by a supportive reporter from the Des Moines Register, Roger Dempsey (typecast Larry Miller). He gets some comedy bits in, including a sub-subplot involving a rival newspaper man. We are told but do not see that despite their lackluster performances, general malaise and apathy, the team is actually doing well this season. It all comes down to the final game, of course. They've done okay, and now they need to just win this one for the title. There's a menace presented in the form of a big bruiser who can hit everything and throws 90+ mph. He's being scouted by the big leagues, so you know he's serious! Just to get on base, the player who has been the jerkiest this season makes the sacrifice of taking one in the back. They go into extra innings, and in the end, our team wins the state title again. There's some petty text that explains that Benton has never won a season.
Mitch ends up getting good advice from his grandmother.
The Final Season is a technically good, passable film. It makes you feel warm about small town life and baseball. It's inoffensive, like the state it's set in. (Is this heaven? No, this is Iowa.) In the right mind, I think most people will like it, but there were just so many problems with it overall as a movie that are near impossible to ignore. First, at two hours, this is easily a half hour too long. And who is the star of this film? It isn't Smith. He's pivotal to the plot, but does little in terms of management or inspiration. He's utilitarian. So is Astin's performance. He makes no impact in a role that should be played with a knowing wink and cocksure grin. Mitch isn't the star. He fades into the team by the third act. The team isn't the star. We know maybe two or three guys from the earlier Mitch scenes. We get no real sense of their dynamic, their bond, if any, the fundamental stuff about a team! Think Remember the Titans. Hanging off of a very, very thin plot are all these completely superfluous subplots. The bus driver's heart attack, really? The whole film and all its characters are monotone, like it's stuck on first gear. They win, I get it. Don't waste my time! This may all be what happened, but take some liberties for drama's sake. One thing I did like is the use of real footage from the games, of the spectators and an interview with the real Smith post-real game. I've seen it done in other, better films, and here the footage is clumsily, awkwardly inserted. I still like it, though, because it's the film's only real hints of authenticity. The Final Season is written and directed by David Mickey Evans, who also made The Sandlot, a gem of a family flick. That film was also about baseball and filled with nostalgia, but it was sincere and not pandering. That film was about the good fun of kids playing in a backyard, in an anywhere timelessness. A geeky fish out of water joins them, becomes one of them. They share in the highs and lows of this one summer, and forge lifelong friendships. The Final Season, though, would have been better served as a magazine article and inspiring anecdote.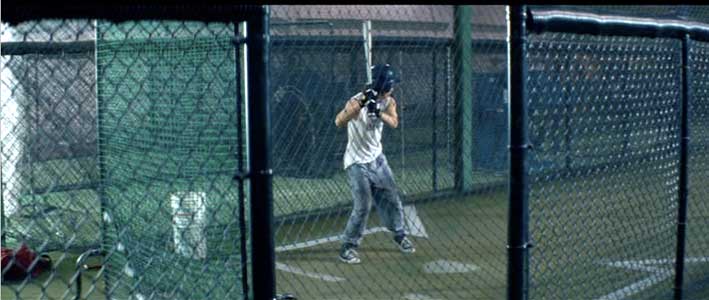 Eventually Mitch decides to take playing on the town baseball team seriously, and works on his hitting.
Best Chucks Scene
Mitch playing some catch with two local kids.
Teen rebel Mitch (Michael Angarano) wears black high top chucks throughout the film. He has the most interesting scenes in the film. He gets into fights and there's angst and emotions. Good drama. He tries to integrate with the local kids. In one scene, Mitch asks a peer who's come over where he can score some weed. The peer sends away his little brother, and threatens Mitch for talking about drugs near his little brother. They don't do that in small towns like this!
Mitch is attracted to Cindy and opens up to her when they visit the cemetery where her grandmother is buried.
He later gets a romantic scene with another peer's sister. We see his character soften and he explores his family problems. Their romance is thin, because this is only their third scene together in a film dense with characters and plots. But it's nicely shot and the chucks are present.
The Final Season. (2007) Sean Astin, Powers Boothe, Michael Angarano, Rachael Leigh Cook, Tom Arnold, MacKenzie Astin.
Directed by David M. Evans. Categories: Drama, Sports.
ChucksConnection Rating:

MPAA Rating: PG
Support the film industry by purchasing genuine DVD, Blue Ray, or streaming copies of these films. Illegal copies only help profiteers. Make sure your money goes to the producers and artists who actually create these films. Still images from the film are used here as teasers to get you to view an authorized copy. If you have information about a film where a main character wears chucks, contact us at films@chucksconnection.com.