A ChucksConnection Film Review
Isabella Sermon wears red high top Converse "Chuck Taylor" All Stars in the film.
Jurassic World: Dominion
by Marcus Angulo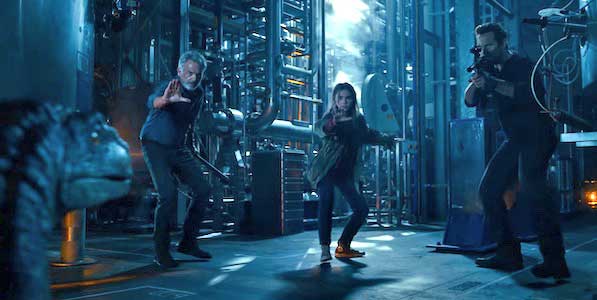 Maisie uses her adoptive father's go-to move.
Do remember the first time you saw a dinosaur? That is the question posed by Jurassic World: Dominion, clearly asking you to remember the first Jurassic Park film nearly 30 years ago. That film revolutionized special effects in filmmaking and was a certified classic that spawned the six-film franchise that has been pumped out since. This final film of the franchise was released on June 10th, 2022. Like its predecessors in the Jurassic World trilogy, Dominion would go on to make over $1 Billion at the box office, while suffering from mediocre reviews. The film brings the cast of the original trilogy together with the sequel trilogy cast. It stars Chris Pratt, Bryce Dallas Howard, Isabella Sermon, Laura Dern, Jeff Goldblum, Sam Neill, DeWanda Wise, Mamoudou Athie, BD Wong, Omar Sy, and Campbell Scott.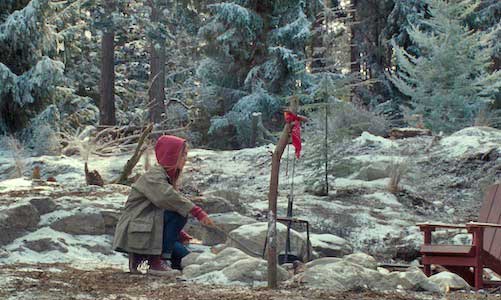 Maisie meets Beta and they bond.
Four years after the events of Jurassic World: Fallen Kingdom, un-extinct dinosaurs freely roam the Earth, causing ecological disasters and cruelties against them. Amid global efforts to control this now invasive species, Biosyn Genetics established a dinosaur preserve located in the Dolomite Mountains, Italy, where they conduct genetic research, seeking possible pharmaceutical applications. Claire Dearing (Howard) is still trying to save the dinosaurs and starts the film investigating illegal dinosaur breeding sites, while her partner, Owen Grady (Pratt), works as a dino wrangler. At their remote cabin in the Sierra Nevada Mountains, Claire and Owen are secretly raising Maisie Lockwood (Sermon), a genetic clone, while protecting her from nefarious groups seeking to exploit her genetic makeup. Soon Blue, the Velociraptor that Owen raised, arrives with its asexually-reproduced offspring, and Maisie names it Beta. Maisie has grown increasingly frustrated living in seclusion, and she sneaks away. Mercenaries then kidnap her and capture Beta. Owen and Claire immediately launch a rescue effort.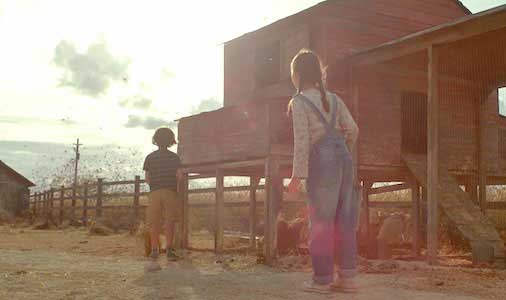 Watch out, kids, the locusts are coming.
Elsewhere, swarms of giant locusts are decimating corn crops across the United States. Paleobotanist Dr. Ellie Sattler (Dern) observes that corporate-grown crops using Biosyn seeds are left uneaten, raising suspicions they created the insects. Ellie captures one of these superbugs and takes it to her former partner, paleontologist Dr. Alan Grant (Neill). They determine the locust were genetically engineered with Cretaceous-period insect DNA. Ellie reaches out to her Biosyn contact, chaotician Dr. Ian Malcolm (Goldblum), who also has suspicions about the company he works for. He seeks to expose CEO Dr. Lewis Dodgson (Scott) after communications director Ramsay Cole (Athie) warned him of Dodgson's illegal activities. Biosyn's illegal activities will bring these two parties together where they will find the truth about the world they now live in.
Maisie is very much a rebel in her chucks.
Let's talk about the dog-sized locust in the room: why is this dinosaur movie about superbugs? This six-film franchise that features iconic dinosaurs culminates in giant locusts eating corn crops. The first Jurassic World film showed us John Hammond's dream fully realized and how that became a nightmare. Fallen Kingdom brought dinosaurs to the mainland and let them lose in our world. This film was marketed around the promise that it was finally a Jurassic World and that it was now a world of dinosaurs that humans would have to navigate through. Instead, we get some loose dinosaurs here and there, but most are rounded up in a single wildlife park again, and a plot centered around genetically engineered bugs and a kidnapped girl. The reintroduction of Dr.'s Grant, Malcolm, and Sadler isn't enough to bring that plot back from extinction. The dinosaurs, which were once an awe-inspiring site that instilled a sense of wonder in viewers are now just window dressing. The final battle between the T-Rex and another new monster predator is so quick and pointless that it doesn't muster any emotion. This was an incredibly sad end to the Jurassic franchise, which goes out with a whimper rather than a roar.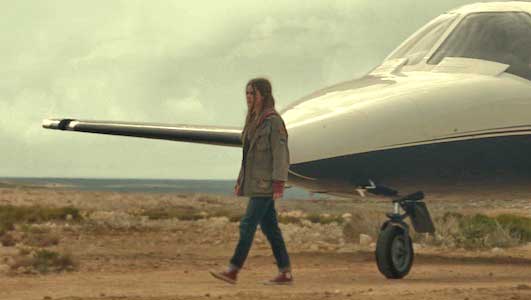 Maisie is kidnapped in this film.
Best Chucks Scene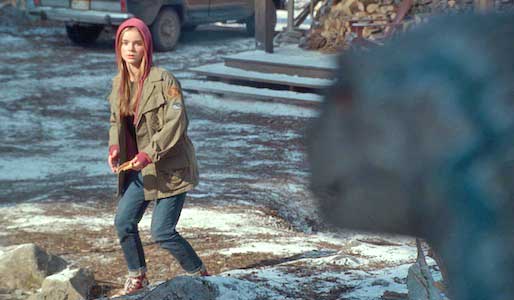 Maisie wears red high top chucks throughout the film.

The best chucks scene in the film occurs when Maisie first meets Beta. After wearing boots in her first scene, Maisie has now thrown on a pair of red high top chucks that she'll wear throughout the rest of the film. She does chores around the cabin and while cutting wood for the fire, meets Beta, Blue's asexually-reproduced offspring. She feeds the baby dino some toast and seems to bond with her until mama shows up and the mood quickly changes. Owen steps in and tells Maisie to stay calm until Blue leaves with her offspring. Owen resolves to go find their nest but tells Maisie to stay put which she does not. This leads to her kidnapping and kickstarts this plotline. This scene shows Maisie's courage and rebellious side, both of which are often traits given to chuck wearers in film.
Maisie steps toward Beta.
Jurassic World: Fallen Kingdom. (2015) Chris Pratt, Bryce Dallas Howard, Isabella Sermon, Eli Mills, Justice Smith, Daniella Pineda, James Cromwell, Toby Jones, Ted Levine, Jeff Goldblum, BD Wong. Directed by J.A. Bayona.
Categories: Action/Adventure, Science Fiction
ChucksConnection Rating:

MPAA Rating: PG-13
Support the film industry by purchasing genuine DVD, Blue Ray, or streaming copies of these films. Illegal copies only help profiteers. Make sure your money goes to the producers and artists who actually create these films. Still images from the film are used here as teasers to get you to view an authorized copy. If you have information about a film where a main character wears chucks, contact us at
films@chucksconnection.com.