A ChucksConnection Film Review
Jesse Plemons wears black high top Converse "Chuck Taylor" All Stars in the film.
Like Mike
by Marcus Angulo
Calvin and the gang ride to the arena in the film's climax.
What if you could harness the greatness of his Royal Airness, the one and only Michael Jordan? What if you could take all his skill, speed, and ability, and put it all in a pair of sneakers? Like Mike is a 2002 American comedy directed by John Schultz. It stars rapper/child actor Lil' Bow Wow as the lead, with Morris Chestnut, Jonathan Lipnicki, Brenda Song, Jesse Plemons, Robert Forster, Crispin Glover and Eugene Levy playing supporting roles. This film was produced by NBA Productions which means it features cameo appearances by NBA players and actual NBA teams and logos. Released on July 3rd, 2002, the film was a mild box office success, but it is remembered fondly amongst a generation of basketball fans who watched and wondered what it would be like to be like Mike.
Calvin utilizes his Iverson-like crossover.
The film follows Calvin Cambridge (Bow Wow) and his two best friends, Murph (Lipnicki) and Reg (Song) who live in an LA orphanage. During the day they are terrorized by the orphanage bully, Ox (Plemons), while at night they all have to sell chocolate for the creepy orphanage director, Stan Bittleman (Glover), after each home game of the Los Angeles Knights (a fictional stand-in for the LA Clippers). One night after a Knights' loss, Calvin meets the team's head coach (Forster), who is impressed by Calvin's basketball knowledge, and offers Calvin tickets for the next game. The next day, Calvin finds a pair of old sneakers in a thrift store donation box. The sneakers have the initials "MJ" written on them, and Calvin and his friends believe that they once belonged to Michael Jordan. The sneakers are then taken by a jealous Ox, who throws them onto a nearby power line. When Calvin tries to retrieve them that night during a rainstorm, he is struck by a lightning bolt.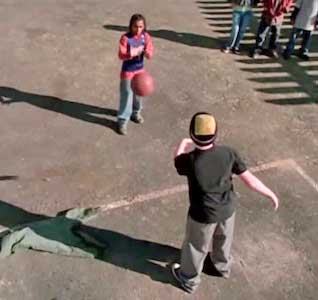 Ox plays Calvin while wearing black chucks.
Calvin and his friends attend the game between the Knights and the Minnesota Timberwolves, where the team hosts a halftime show to play one-on-one against the Knights' star player, Tracy Reynolds (Chestnut). Calvin is selected and he goes one-on-one with Tracy, winning with the power of MJ at his feet. He's then signed to a contract by the Knights, making him the youngest (and shortest) player in NBA history. Calvin prepares for his first game with the Knights, but realizes that he is not there to play, instead being used as a special attraction to sell tickets and sit on the bench. However, as the Knights play the San Antonio Spurs and start losing badly, Coach Wagner decides to let Calvin play in the fourth quarter. Calvin leads a comeback against the Spurs and the Knights win, leading to Calvin getting a full contract and instant stardom. Reynolds becomes his mentor, and hijinks ensue as Calvin brings teamwork to the Knights and makes them one of the best teams in the league.
The gang wonders what it'd be like to be adopted.
This movie is a somewhat cult classic for a generation of young basketball fans. It's a film built on dream fulfillment for young kids that wonder what it's like to play in the NBA. The movie does a great job of showing the fun a kid playing in the league would have, and its laundry list of great NBA player cameos make it a fun time capsule of early 2000's basketball. Bow Wow shines as Calvin, showing confidence that never grates, and loads of energy. The chemistry between him and Morris Chestnut is also a highlight. Overall, this is a fun film that's a quick, easy watch if you're a fan of basketball and sports movies. (See also The Red Sneakers, another 2002 film about magic sneakers, in this case red high top chucks.)
Ox gloats after beating Calvin for his jersey.
Best Chucks Scene
The best chucks scene in the movie occurs in the very first few moments after the opening credits. As Calvin, Murph, and Reg play basketball on the orphanage's asphalt court. Ox steps into frame wearing a pair of black chucks underneath his baggy, early 2000's sweat pants. He calls Calvin short, and then challenges him to a game for his Allen Iverson jersey. Calvin has a sick jab step crossover, but Ox's size lets him win easily. He then takes Calvin's jersey and rips it up since it doesn't fit him. This scene perfectly establishes Ox as the film's main antagonist, while at the same time showing that Calvin never backs down from a challenge. It's a very effective start to the movie that also lets us know that it's not all about the magic sneakers.
Even as a very young boy, Billy wore black high top chucks.
Like Mike. (2002) Lil' Bow Wow (Shad Moss), Jonathan Lipnicki, Jesse Plemons, Brenda Song, Morris Chestnut, Julius Ritter, Crispin Glover, Anne Meara, Robert Forster, Eugene Levy, Roger Morrissey, Timon Kyle Durrett. Directed by John Schultz.
Categories: Comedy, Family, Fantasy, Sports.
ChucksConnection Rating:

MPAA Rating: PG
Support the film industry by purchasing genuine DVD, Blue Ray, or streaming copies of these films. Illegal copies only help profiteers. Make sure your money goes to the producers and artists who actually create these films. Still images from the film are used here as teasers to get you to view an authorized copy. If you have information about a film where a main character wears chucks, contact us at films@chucksconnection.com.