A ChucksConnection TV Series Feature
Darren Barnet wears black high top Converse "Chuck Taylor" All Stars in the series.
Never Have I Ever
Poster with the principal high school characters.
Never Have I Ever takes us to a public high school in Sherman Oaks, California where we meet sophomore Devi Vishwakumar (Maitreyi Ramakrishnan) and her world of friends and family. This comedy/coming of age series, now in its second season, was created by Mindy Kaling (The Mindy Project). Some of the concepts and situations in the series are said to be based on Ms. Kaling's own childhood. Devi is a fifteen-year-old Indian-American whose family immigrated to America from the Tamil region. During her freshman year she lost her father Mohan (Sendhil Ramamurthy) which was quite a traumatic event for her, causing her to lose the use of her legs for several months, and making her first year of high school a social disaster. Her mother, Dr. Nalini Vishwakumar (Poorna Jagannathan), now left on her own to raise Devi, does so in a most strict and traditional manner that reflects the older traditions of Indian culture. Another family member with a role in the series is her cousin Kamala (Richa Moorjani) who also struggles as Devi does with the restrictions placed on them as to what is proper behavior for teenaged girls and how to respond to their parent's expectations of life issues like agreeing to arranged marriages. Surprisingly, the series is narrated by professional tennis player John McEnroe, who explains things from Devi's point of view.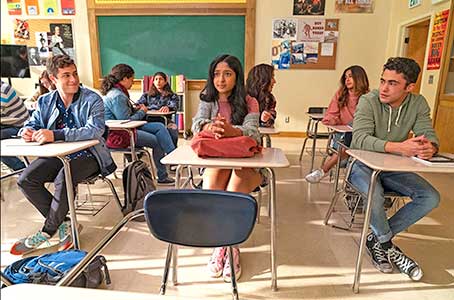 Ben, Devi and Paxton in their history class.
The main people in her high school world are her two best friends, Eleanor (Ramona Young) and Fabiola (Lee Rodriguez). They, along with her chief academic rival Ben (Jaren Lewison), are greatly involved in school academics. But Devi wants to break out of just being in involved in academics and start to have a better social life. She would like to get to know boys from the school in crowd, with her eyes on heartthrob Paxton Hall-Yoshida (Darren Barnet) a campus swimming star who like to wear black high top chucks. When Eleanor confesses to Devi that she actually has a boyfriend, Devi decides that she needs to do something about it for herself. At a break in the school day Devi goes up to Paxton, and after pulling him aside from his friends to talk, brazenly asks him if he would like to have sex with her. Surprisingly, Paxon accepts.
Paxton laces up his chuck in the hall.
After school, Devi leaves orchestra practice early to go to Paxton's house, but is really not ready to go all the way. She also meets Paxton's sister, who has Down Syndrome, but is very well adjusted and takes a liking to Devi. Devi leaves, but learns about another side to Paxton that she didn't know about — Paxton is very protective of his sister, especially against any one trying to pick on her. Even though their mating was unsuccessful, everyone who heard about their meeting thinks that it did happen, something will cause problems later. In their history class, Paxton, his buddy Marcus (Dana Vaughns) and Devi team up on a class presentation. The guys are doing this to get a good grade, but this reinforces Paxton's friendship with Devi. At a party, a drunken Devi is attacked by a coyote who she believes to be the spirit of her father, and Paxton must bring her to a hospital. Later, he affirms that they are just friends.
Devi approaches Paxton who is seated with his posse.
Meanwhile other things are going on with Devi's cousin Kamala and her friends Eleanor and Fabiola. Kamala has a secret boyfriend Steve (Eddie Liu) that she reluctantly breaks up with due to her arranged marriage. But later they get together again, and Steve is ready to protect her from her arranged marriage when the family meets with her potential husband for the first time. Fabiola has a boyfriend for a while, but eventually comes to the realization that she is a lesbian, and has an attraction for another girl, Eve. Nalini, Devi's mother, grounds her for life for her actions of getting drunk, ending up at the hospital and going out with a boy she knows nothing about. Later she yells at Paxton for ruining Devi's life. Devi decides to join the school Model UN event, which is held out of town, as an excuse to get out of the house. At the event she and Ben join forces to get the members alcohol. Later their rivalry turns around, Ben is invited by Nalini to their house for dinner, and now a triangle starts to develop, but in the long run, Devi still has a crush on Paxton.
Paxton talks to Devi as she approaches him seated on his front steps.
The Vishwakumar family faces another crisis as her uncle reveals that Nalini is planning on moving back to India. Devi gets in a fight with Nalini over this and refuses to move. Devi moves in with Ben so that she cannot be taken to India. Later Nalini decides against the move and visits Devi on Mohan's birthday. She asks Devi to spread her father's ashes with her, but she refuses. To convince Devi to spread the ashes with Nalini, Ben enlists the help of Fabiola and Eleanor, who reconcile their friendship. They encourage Devi to go, so Ben takes her to Malibu. Devi, Nalini, and Kamala spread Mohan's ashes and she agrees to move back in with them.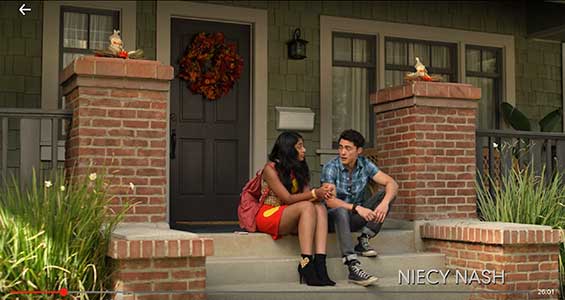 Gradually Devi and Paxton start to build a relationship.
The storyline continues in this vein, as the whirlwind of actions by her family and friends continue to affect Devi's life. Devi apologizes to Paxton for letting the rumor about having sex with Paxton spread around campus. Paxton's mixed messages after that continue to frustrate Devi. For a while Paxton avoids Devi following the incident with Nalini. Later, Paxton, after his sister's urging to reconcile with Devi, leaves her a message that he wants to see her again while waiting at her front door. Paxton steps out of his comfort zone and decides that making good grades should become a priority. This is something that Devi could really help him with, so he can prove that he is more than a campus heartthrob and star swimmer. As the first season ends, Devi doesn't quite know what her status with Paxton and on campus is, but realizes that the upcoming winter dance offers a chance to determine where she stands.
Devi joins Paxton and his best buds Trent and Marcus in his den.
Do you know of other television shows or series where a main character wears Converse All Star Chuck Taylors? Can you describe a favorite episode or two from the series, or do you have additional information about the shows described here already? Do you have videotapes, DVDs or shot captures of episodes from any of the series that haven't been given an in depth article on this site? If you do, email us at chucksphotos@chucksconnection.com and we will add the information to the television pages.