A ChucksConnection Film Review
Keidrich Sellati and Maxwell Apple wears black high top Converse "Chuck Taylor" All Stars in the film.
Frankie J. Alvarez wears grey high top Converse "Chuck Taylor" All Stars in the film.
Rockaway
by Hal Peterson
Anthony and John playing basketball.
Rockaway begins in present day in the New York apartment of John, who is an artist or cartoonist. He is watching an NBA playoff game and is reminded of his youth, when he was a huge Knicks fan and idolized John Starks, who wore #3. The story then goes into flashback and takes us to the East Rockaway community in the Queens borough on Long Island. There we meet eight-year-old John (Maxwell Apple) and his twelve-year-old brother Anthony (Keidrich Sellati). It is the summer of 1994, and the main events of the story take place in a two week period in mid-June. With school out, we see the two brothers trolling for tennis balls, playing stickball, and shooting baskets at a local playground. The two spend most of their time together, outside and away from their home, which is not a happy place. The two boys love their mom (Marjan Neshat) who works as a waitress in a local diner, but hate their tattoo-covered father (Wass Stevens), who is an abusive alcoholic, constantly threatening the boys and hitting their mom. His life has not been a successful one, and he takes out his frustrations on his family. Anthony is very protective of John who is afraid of his father, and will hide or seek protection when his father goes into one of his rages. Anthony, who is at that pre-adolescent age where he defiantly claims to be not afraid of anything or anyone, often takes the brunt of his father's anger. Probably the most disturbing thing we find out is that the two boys have a plan, outlined in a drawing by John, to kill their father in the basement of their house — knocking out the lone ceiling light bulb, spreading tennis balls on the floor so he will trip, and then pushing the furnace unit on top of him. More realistic is their mom's wish to take the two boys and leave home for good, when she can get a new job somewhere else.
Anthony and his mom holding a sleepy John.
Against this dark background of family life, there are some positive development in the boys' lives, when they meet and become friends with four other boys they meet at the playground. There is Billy (Harrison Wittmeyer) a natural leader and teacher, something we see when he shows John how to correctly shoot a basket, Brian (Tanner Flood) also smart and athletic and very good with numbers, Sal (Colin Critchley) who is quite talkative and extroverted, the group comic, and Dom (James DiGiacomo), strong and determined as the enforcer among the friends. The boys have a good time playing ball together, using their street smarts and a few dirty tricks during a baseball game to defeat some preppy kids from a local Catholic school, stealing tennis balls from the local tennis club, whooping it up while riding their bikes through town, and watching the NBA playoff games between Houston and the Knicks. They even interact with a local girl Gina (Sophia Rose) who they run into while she is making a chalkboard sign in front of the deli where she works. Sal becomes a pseudo-Romeo, singing a song to her, but in perfect New York style she brings him right back down with her own rap. Meanwhile John has taken some of the chalk and made an impressive drawing on the side of a wall, earning a kiss from Rosa, and impressing the other boys with his artistic talent.
John and Anthony with their friends Brian, Dom, Sal, and Billy.
Things would be great for John and Anthony if they could continue their friendship with the others throughout the summer, but things at home have come to a boiling point. Things are so bad between Anthony and his father that when he offers five dollars to the boys for snacks, Anthony glares at him and refuses to take it. His father then gives the money to John, but a little later Anthony takes the money and throws it down a sewer. Their mom finally has come up with a plan to leave, and has set a date. Of course this is upsetting to the other boys when they find out that their new friends will be moving away but also about their plan to kill their father. Billy to his credit, stands up to Anthony and tells him that this is totally wrong, which starts a fight. After Anthony punches him in anger, Billy wins the argument by telling Anthony, "Is this what you want to be? Exactly like your father!" Things cool down between the boys but soon events take a dramatic turn as the Anthony and John's plot has unintended consequences and the flashback scenes come to their conclusion.
Anthony and friends meet the prep school boys for a baseball game.
When watching Rockaway you see definite references to other boyhood films reviewed on this site, notably Stand By Me, The Sandlot, and even Radio Flyer, where two chucks-wearing kids try to escape from an abusive step father and neighborhood bullies by living in a fantasy world. John J. Budion, the film's writer, producer, and director describes his work as based on true events, so perhaps Rockaway is meant to be somewhat autobiographical if not always factual. While the story line is simplistic and derivative, the thing that makes Rockaway work is the performances of the young actors (Keidrich Sellati, Maxwell Apple, Harrison Wittmeyer, Colin Critchley, Tanner Flood, and James DiGiacomo) who are well cast in their roles and make a great team. Quickly they win you over, and remind you of the simple enthusiasms of kids everywhere. The best moments of the film occur when the boys are in their own world of sports, adolescent dares, caring for each other, and learning the importance of friendships. When they are brought back into the world of Anthony and John's parents, things are disturbing and not always believable. Now available on DVD and streaming, watch Rockaway for its tribute to boyhood in a simpler time.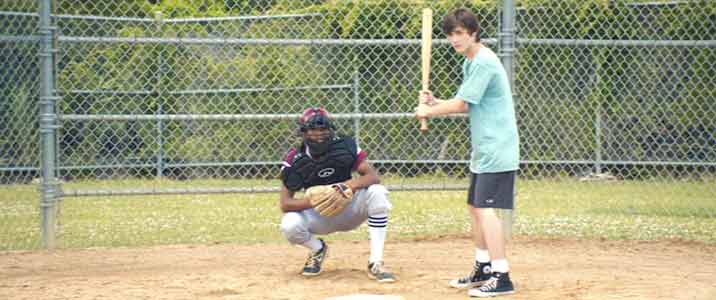 Anthony is up to bat against the prep boys team.
Best Chucks Scene
Anthony tosses his father's dollar bill into the sewer.
Keidrich Sellati and Maxwell Apple as brothers Anthony and John wear black high top chucks throughout the film, perfect footwear for young boys in the 1990s (or anytime for that matter). Young John is so enamored of his older brother Anthony that he would want to wear exactly the same sneakers, and the cinematography is chucks-friendly in this film. The best close up scene is when Anthony tosses a bill that his father gave John into a nearby sewer, considering it tainted money. John hurries over to the sewer to see if he can get it back, but it is too late. Frankie J. Alvarez who plays John as an adult also wears grey high top chucks in the few scenes he is in.
John looks forlornly after the money.
Rockaway. (2017) Keidrich Sellati, Maxwell Apple, James DiGiacomo, Tanner Flood, Colin Critchley, Harrison Wittmeyer, Marjan Neshat, Wass Stevens, Frankie J. Alvarez. Written and directed by John J. Budion.
Categories: Adventure, Drama.
ChucksConnection Rating:

MPAA Rating: NR, would be PG-13
Support the film industry by purchasing genuine DVD, Blue Ray, or streaming copies of these films. Illegal copies only help profiteers. Make sure your money goes to the producers and artists who actually create these films. Still images from the film are used here as teasers to get you to view an authorized copy. If you have information about a film where a main character wears chucks, contact us at films@chucksconnection.com.