A ChucksConnection Film Review
Basile Grunberger wears blue high top Converse "Chuck Taylor" All Stars in the film.
Albane Masson wears monochrome white low top Converse "Chuck Taylor" All Stars in the film.
SpaceBoy
by Hal Peterson


Jim talking with his father, Graham.
SpaceBoy is the first feature film of Belgian writer and director Olivier Pairoux. Set in the year 1986, we meet eleven-year-old Jim (Basile Grunberger) and his widower father Graham (Yannick Renier) as they are moving from a coastal apartment to a new house in a more suburban location. Graham is an astrophysicist involved with a government space mission and not surprisingly young Jim has a very intense interest in space and science. Among his prized possessions are globes, telescopes, and maps of outer space, along with a toy robot that he brings along wherever he goes. Jim expresses great pride in what his father is doing especially when Graham shows Jim around his new office at the space mission center. Graham is supposed to participate in a new space mission shortly, something that means everything to Jim.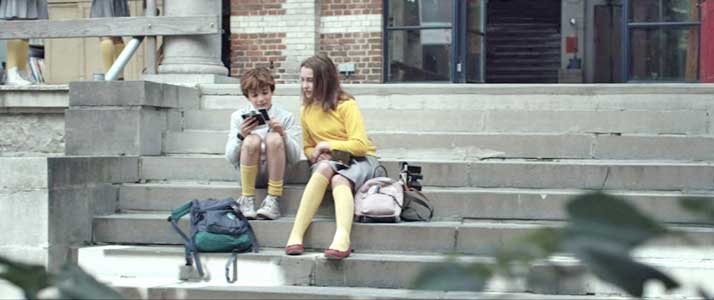 Jim and Emma seated in front of their school looking at her photos.
At Jim's new school, the big deal is a science project competition. For the project, students are paired in teams. For his project Jim is paired with another new student Emma (Albane Masson). The projects are to be presented at a local community fair, so there is a lot of competition among the students to see who can come up with the best idea. Headstrong Jim quickly comes in to conflict with two other boys in his class Spencer (Sacha Teichman) and Little Pascal (Lior Zwikielski) who are jealous of his forward thinking ideas, unconventional behavior, knowledge of science, and the fact that he gets to work with Emma. This results in actual physical fights with Little Pascal, and Pascal's determination to sabotage Jim's project. Emma is at first overwhelmed by Jim's project idea, which is to duplicate the famous 1960's "Excelsior" free fall from the edge of outer space by Joseph Kittinger; her idea was to do something with a pet hamster. Jim is able to get his idea past their science teacher by making it appear that the hamster would be going into space. Jim is especially motivated to complete this project to show his father that you can do anything if you put your mind and energy toward it, after he learns that his father has dropped out of an upcoming space mission at his work.
After crashing his bicycle, Jim dreams that he is floating through space.
As Jim and Emma begin to work on their project in an abandoned workshop away from the town, they start to develop a close friendship. Both are naturally loners but share a mutual respect for each other that their parents are unable to see or understand. Jim is fearless in his pursuit of their actual goal, which is to build a helium balloon powered air craft which will carry them to the edge of outer space. When the two of them discover a supply of helium in a local zoo, they conspire to take some of the canisters back to their workshop. A fire in a small test balloon causes Jim to try other methods of propulsion like a catapult or downhill bicycle leaps. These are hilarious failures except for the dangers that Jim puts himself in while trying these ideas out. We gradually learn that Emma has issues of her own as well. While her mother wants her to be an up and coming debutante type of girl, not trying anything dangerous perhaps due to an an underlying medical condition alluded to toward the end of the story, Emma is content to be her simple self, taking photos with her camera and singing songs while accompanying herself on a ukulele. When Little Pascal fires BB gun shots into their workshop while Jim and Emma are inside, it causes a serious explosion that injures Emma. After she is brought limping to the local hospital by Jim, her parents and Graham are very much opposed to their collaboration continuing. But Jim has an indomitable spirit and refuses to give up on the project, eventually helping Emma to escape from the hospital so that they can finish it together as they had planned. This leads to a stunning and somewhat surprising conclusion that will leave the viewer thinking about the themes presented in the story long after the film is over.
Jim and Emma with the parts to their air balloon.
There is a lot to absorb while watching SpaceBoy. The cinematography is stunning to watch throughout, and helps you to quickly connect with the lead characters and their environment. Basile Grunberger and Albane Masson deliver outstanding performances as they give life to the stubborn dreamer Jim and his faithful and supportive friend Emma. Writer/director Olivier Pairoux has provided us with a broad palette of themes: a return to the life styles of the 1980s, coming of age and learning to deal with dreams and innocence vs. reality for adolescents, relationships between children and their parents, and even life/death issues like grief. It is unfortunate that this film is not readily available to English-speaking audience. Hopefully that will get corrected in the near future as this film is a captivating viewing experience well worth your time. Currently available on DVD in French.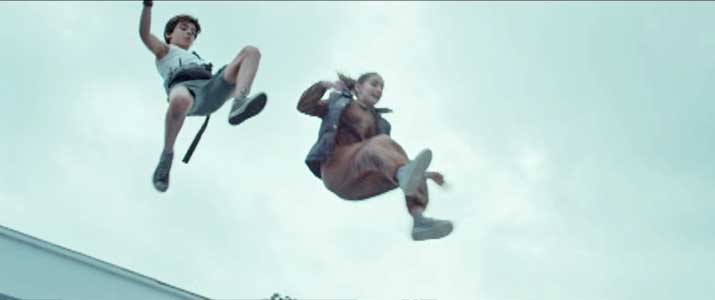 Jim and Emma leap off of the hospital roof.
Best Chucks Scene


Jim stamps out the balloon helium fire.

The cinematography in SpaceBoy is particularly chucks friendly, with many close ups of Jim's light blue high tops which he wears throughout the film. There are several scenes with extended close ups. The first of these is when Jim must put out the fire caused by a helium balloon igniting, and the camera follows his chucks as he stomps on the balloon to quell the flames. Another is toward the ending of the film, when Jim and Emma are in the large air balloon that they built. For more shots of these and other closeup stills, view our SpaceBoy photo gallery.
Before his dive, Jim adjusts the walkie-talkie volume.
SpaceBoy. (2021) Basile Grunberger, Albane Masson, Yannick Renier, Bérénice Baôo, Jean-Benoît Ugeux, Peter Van den Begin. Written and directed by Olivier Pairoux.
Categories: Action/Adventure, Family.
ChucksConnection Rating:
MPAA Rating: NR, would be PG
Support the film industry by purchasing genuine DVD, Blue Ray, or streaming copies of these films. Illegal copies only help profiteers. Make sure your money goes to the producers and artists who actually create these films. Still images from the film are used here as teasers to get you to view an authorized copy. If you have information about a film where a main character wears chucks, contact us at
films@chucksconnection.com.