A ChucksConnection Film Review
CJ Diehl wears black high top Converse "Chuck Taylor" All Stars in the film.
The Stream
by Hal Peterson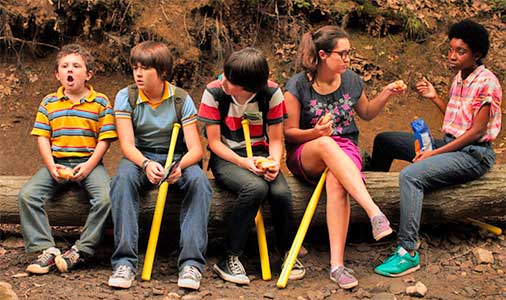 The main cast sitting by a log near The Stream.
As The Stream opens, we hear a reminiscence by the adult Ernest Terry (Rainn Wilson) as he stops by the site of a place that had a lot of meaning for him as a kid. The video quickly morphs into a flashback of when Ernest was about twelve in the summer of 1981. First we are introduced to Ernest's best friend Chris Wollerman (CJ Diehl), his younger brother Bobby (Michael Capperella), Ernest at twelve (Jacob M. Williams), Paxton Riley (Noura Boustany Jost), and Lorna Ross (Sabrina D. Carter). These five friends are very much into fantasizing that they are Jedi fighters, from the Star Wars films that were all the rage at the time. Armed with yellow plastic baseball bats (meant for Wiffle ball) that simulated light sabers, they would have flag wars with other groups of kids out in the woods. The one funny thing about their group was Ernest himself, who saw himself as Darth Vader rather than as a Jedi knight. To finish off the scenario, there are several seldom seen parents, Christopher Gorham and Kelly Rutherford for the Terry family, and Mario Lopez as Paxton's dad, along with three bullies led by Wyatt Swooker (Tyler Elliot Burke) who are out to make trouble for the five whenever they get a chance.
Chris, Ernest and their friends in a Star Wars battle.
As the story picks up, we learn quirky things about the kids: Chris has a habit of throwing up when he gets stressed out, Ernest has a secret crush on Paxton but is afraid to pursue it, little Bobby is incredibly brave but has one great fear, described as his Kryptonite, of a local mythological figure known as Takawana, Paxton is awkward around boys but older and going into high school that fall, and Sabrina is a lot more athletic than the boys are. The five friends are considered nerdy by Wyatt and his two sidekicks Julius (Louis Stancil) and Squirrel (Roman Maldonado) who harass them whenever they get a chance. Ironically, Wyatt's girlfriend Hollis (Madison Kaplan) likes Ernest, and even invites him to rub sunscreen on her back until Wyatt suddenly returns. The main storyline gets moving along when Wyatt breaks Ernest's already patched together yellow plastic bat. With their parents out of the picture for four hours, the five have that window to get Ernest a new bat. Under the leadership of Chris, they decide to walk to the local sporting goods store in town along the local stream instead of on regular city streets, so they won't be followed by Wyatt, Julius and Squirrel.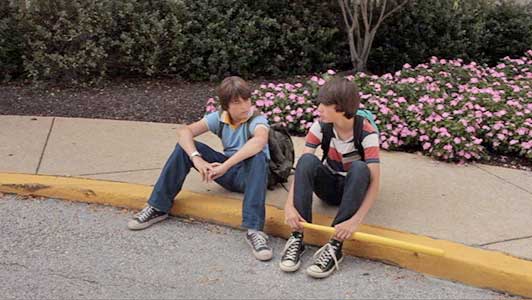 Ernest and Chris seated on a curb.
Of course all kinds of things happen on the way. They are pursued by the bullies because Wyatt's dog tracks down where they are going. After a chase scene, Bobby's backpack gets sacrificed to keep the dog away. They have little crises as they face crossing the stream in difficult terrain; it seems that Chris is not quite sure of his directions and the other are ready to go back home until he gets them back on track through a culvert. Later a sudden heavy rainstorm makes their return difficult and dramatic. And you know that there has a be a final confrontation with Wyatt.
Bobby, Chris, Lorna and Madison about to enter a culvert.
In many ways The Stream is a remake of Stand By Me and The Wonder Years. Certainly this film borrows a lot of their style. The continual narration by one of the characters as an adult, the coming of age decisions, the fight against bullies by weaker kids who eventually stand up for themselves, the complexities and introspection over emerging adolescent relations with the opposite sex, dealing with their parents, and the overall discussion of how events back then influenced life today were all done before in those productions. They also had stronger casts and in the case of Stand By Me, more serious subject matter. That said, there are good performances with personality by CJ Diehl and Michael Capperella. Director Estlin Feigley keeps things generally low key partially due to Colin Costello's derivative screenplay that is long on nostalgia but short on excitement or comedy. It should be noted that much of the proceeds of the film were donated to Boys and Girls Clubs of America and many of the production workers were teenagers getting their first experiences in filmmaking.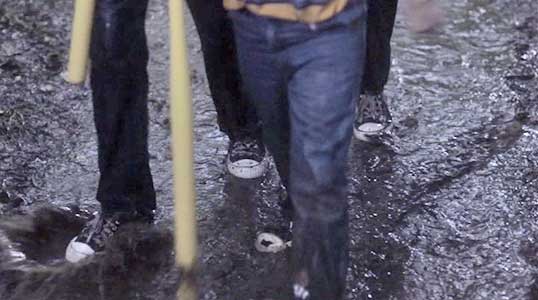 Sloshing through the mud during a rain storm.
Best Chucks Scene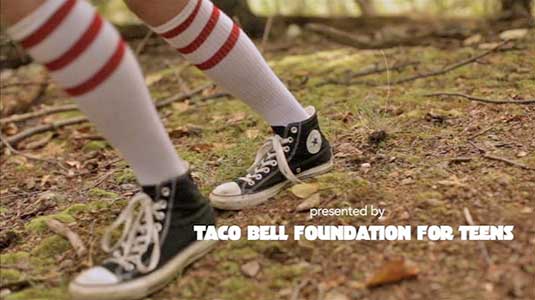 Close up of Chris' black high tops at the start of the story.
Actor CJ Diehl who plays Chris Wollerman, Ernest Terry's best friend, is seen wearing black high top chucks throughout the film. At first you think Chris is the main character in the film, when Rainn Wilson's narration as the adult Ernest dissolves from a camera shot of Wilson's foot at the stream location where the film begins to an extended shot of Chris' black high tops sneaking through the ground. Chris' chucks get a lot of camera shots, as the cinema photography often focuses on the kids' sneakers during their trek along the stream and during the rainstorm. Too bad the Terry family didn't invest in chucks for their two kids, who are stuck in Keds and PF Flyers throughout the film.
The camera frequently focuses on Chris' chucks.
The Stream. (2015) CJ Diehl, Jacob M. Williams, Michael Capperella, Rainn Wilson, Mario Lopez, Kelly Rutherford, Christopher Gorham, Nora Joust, Madison Kaplan, Sabrina D. Carter.
Directed by Estlin Feigley. Categories: Comedy, Family.
ChucksConnection Rating:

MPAA Rating: PG
Support the film industry by purchasing genuine DVD, Blue Ray, or streaming copies of these films. Illegal copies only help profiteers. Make sure your money goes to the producers and artists who actually create these films. Still images from the film are used here as teasers to get you to view an authorized copy. If you have information about a film where a main character wears chucks, contact us at films@chucksconnection.com.