A ChucksConnection Film Review
Lana Condor wears beige (farro brown) low top Converse "Chuck Taylor" All Stars in the film.
To All the Boys: Always and Forever
by Marcus Angulo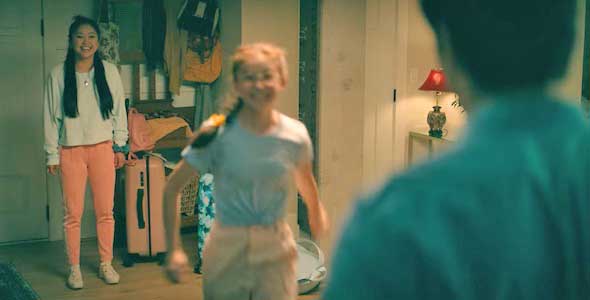 Welcome home LJ!
Young love is surprisingly complicated. You go in expecting the perfect fantastical love story, and at first, that's what you get. A constant state of bliss and puppy eyes that seems like it will never end. Then there's the first fight. And then there's the doubt that this person's the one, and suddenly what was once so simple is now messy and complicated. This is the story of Netflix's To All the Boys franchise, which began with 2018's To All The Boys I Loved Before and continued with 2019's To All The Boys I Loved Before: P.S. I Still Love You. The climactic conclusion to the love story that has captured the hearts of a generation premiered on Valentine's Day weekend, 2021, and is aptly titled To All the Boys: Always and Forever. The film stars Lana Condor, Noah Centineo, Janel Parrish, Anna Cathcart, Trezzo Mahoro, Emilija Baranac, Madeleine Arthur, Ross Butler, Sarayu Blue, John Corbett, and Henry Thomas.
Nothing better than getting desserts in NYC with your bestie.
Through the first two films in the To All the Boys franchise we've seen how the smallest issues can lead to devastation and heartbreak, and also the blissful joy from being with "the one". Now, after the ups and downs that Lara Jean Covey (Condor) and Peter Kavinsky (Centineo) have been through, they truly believe that they are each other's destinies and that nothing can stop their love story. Nothing that is, except college. The film opens with LJ traveling in Seoul, South Korea with her sisters Kitty (Cathcart) and Margot (Parrish), her father Dan (Corbett), and his girlfriend Tina (Blue). All the while she's thinking of Peter and how they're going to spend their college years together at Stanford. That is, as long as LJ gets accepted since Peter has already been accepted on a lacrosse scholarship. Upon returning home, LJ anxiously awaits her results as the rest of the family start planning the wedding between Dan and Trina. The results finally arrive and LJ is accepted to UC Berkeley and NYU, but not Stanford.
LJ packs a pair of black chucks that we never see her wear.
LJ initially leans towards Berkeley since it is only an hour away from Peter, but after falling in love with New York City during the senior trip, she decides to go to NYU. She explains her decision to Peter, but his disappointment at her decision is palpable, and he decides to break up with her on prom night to save himself even worse heartbreak when their relationship falters under the stress of long distance. LJ is miserable as her family tries to tell her that there's more to life than one boy. There's reflection from both her and Peter as to whether or not their relationship is worth saving, and whether their love for each other is one they want to have always and forever.
"So no one told you life was gonna be this way?"
The series has lost a bit of its charm over the course of the last two movies, as part of the fun of the first film was seeing the development of Peter and LJ as a fake couple turned real couple. As we arrive at this conclusion though, the main issue with LJ and Peter's love story is that it never does much to convince us that their love is true. It's all very surface level and we're just told that there's something about their love that means they're each other's soulmates, but beyond a lot of flirting you don't really see much that will leave you believing that they'll make it through college together. However, the film is still bolstered by its two leads. Lana Condor should have all the opportunities to be the lead in any rom com she desires because she has carried this franchise for three films. Noah Centineo is charming as ever, and their chemistry together is really the only thing Peter and LJ have going for them. The rest of the cast do a great job of making this world feel real and lived in. Overall, as a trilogy these three films are fun, light and a great series to just turn on on a Saturday night.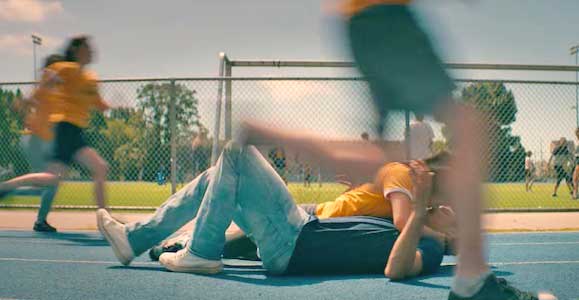 The film ends with a montage and we see that iconic first kiss between LJ and Peter one last time.
Best Chucks Scene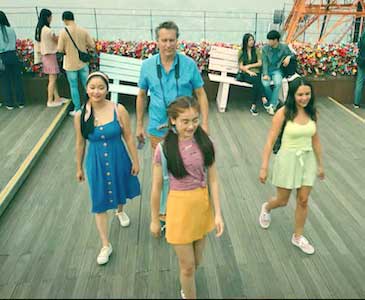 LJ wears these beige chucks through most of the movie.
The best chucks scene comes at the beginning of the film when Lara Jean is touring Seoul with her family. They head to the locket covered bridge to find a locket that LJ's late mother left behind while she was studying in Seoul over 20 years ago. Her dad says that her mom never told him what was on it, and before he asks Trina to marry him he'd like to know. LJ is wearing the beige (farro brown) colored chucks that she wears through a majority of the movie, and she finds the locket. It says "For the rest of my life" and the family share a moment. It's probably the most emotional moment in the film besides the finale.
Finding her mother's long lost locket in a sea of lockets.
To All The Boys I Loved: Always and Forever. (2021) Lana Condor, Noah Centineo, Jordan Fisher, Anna Cathcart, Ross Butler, Janel Parrish. Directed by Michael Fimognari.
Categories: Romance, Drama.
ChucksConnection Rating:

MPAA Rating: TV-14
Support the film industry by purchasing genuine DVD, Blue Ray, or streaming copies of these films. Illegal copies only help profiteers. Make sure your money goes to the producers and artists who actually create these films. Still images from the film are used here as teasers to get you to view an authorized copy. If you have information about a film where a main character wears chucks, contact us at films@chucksconnection.com.