A ChucksConnection Film Review
Joyce Hyser and Bobby Jacoby wear black high top Converse "Chuck Taylor" All Stars in the film.
Just One of the Guys
by Hal Peterson
Terri talks to her brother Buddy in his room.
Terry (Joyce Hyser) is a high school girl who seemingly has everything. She is popular in school, has a college-aged boy friend Kevin (Leigh McCloskey), and a comfortable home life, with parents that are well to do but never are around. Terry writes for the school newspaper, but feels that she gets no respect as a journalist because of her sex. When her teacher refuses to submit one of her stories for an important competition, she feels that his decision was sexist. Terry decides to impersonate a boy and then resubmit her writing because she thinks that is the only way that her work will receive the respect it deserves. This is the premise for Just One of the Guys, which tries to be a teenage version of prior films in this genre like Tootsie or Victor/Victoria, and at other times be a raunchy comedy like Porky's. For Terry to pull her deception off, she must enlist the help of her younger brother Buddy (Billy Jacoby) and her best friend Denise (Toni Hudson). At the same time, she must deceive Kevin and all of the other boys she meets. Things become complicated when in her disguise as the new guy at school, she befriends Rick (Clayton Rohner) another outsider, and gradually develops a crush on him. Because Terry knows what girls really want in a guy, she can't resist doing a makeover on Rick, which leads to problems later.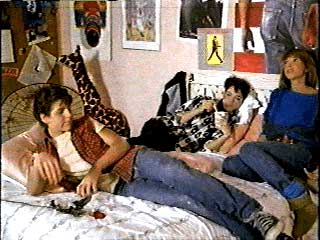 Terry talks to Denise about her plan to disguise herself as a boy while Buddy listens in.
Most of the comedy and funny lines end up coming from Buddy, whose character reminds you somewhat of Duncan McDermott in Staying Together. Buddy is the perpetually horny teen, yet to have his first sexual experience, but always studying to be ready for that moment. He idolizes the women who appear in Playboy, papers the walls of his room with their centerfold pictures, talks of his respect for all of them, and can actually quote their likes and dislikes. He even appears in one scene dressed like a teenaged Hugh Hefner and describes how the evening will proceed with a girl from school actually agrees to come over for a study session. Another scene where he gives lessons to Terry on how to act like a teenaged male by having her work on her swaggering and crotch scratching techniques is hilarious. There are a few other funny bits, mostly in cameo roles, like the two nerd-like friends who do Conehead imitations, and end up dancing with each other rather than their dates at the prom. There are attempts to emulate Porky's, when Terry must attend a boys physical education class, and continually figure out ways to avoid undressing.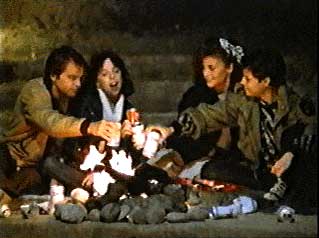 Terri goes camping as a double date with Rick.
The main problem with the film though is that the writing doesn't focus on a single direction and follow through with a believable plot. If the film is to be about journalism, you need to see Terry actually do more writing and come up with some original ways to describe her experiences. If it's going to be a raunchy comedy along the lines of Porky's, there needs to be a lot more explicit humor and funny bits when the opportunities present themselves like in the boys' locker room scenes. And the role of Terry needs to be played in a lot more convincing way, without dumb gaffes like the scene where Terry and Rick are talking in the men's room and she (as a he) asks Rick not to use the urinal or when she is trying to be a macho guy but says things like "We're really rapping, man to man". Too often the film takes the easy way out, for example, with the introduction of the school leader who is a bully (William Zabka) as a villain to take on the newly hip Rick rather than explore the relationship between he and Terry.
Buddy fantasizes that he will be a young Hugh Hefner when a girl agrees to come over.
Best Chucks Scene


Terri checks herself out in a mirror after she puts on Buddy's clothes.
Buddy wears black high top chucks throughout the film and there are a few good shots of them throughout the film, but the best chucks scene is when Terri first appears in front of Buddy wearing his clothes, to test out whether she could be believable impersonating a guy. The two of them are pretty much identically decked out in t-shirts, loose flannel shirts, jeans, and black high top chucks.
Terri dresses like Buddy when she decides to impersonate a boy.
Just One of the Guys. (1985) Joyce Hyser, Clayton Rohner, Billy Jacoby, Toni Hudson, William Zabka, Leigh McCloskey.
Directed by Lisa Gottlied. Categories: Comedy,
ChucksConnection Rating:

MPAA Rating: PG-13
Support the film industry by purchasing genuine DVD, Blue Ray, or streaming copies of these films. Illegal copies only help profiteers. Make sure your money goes to the producers and artists who actually create these films. Still images from the film are used here as teasers to get you to view an authorized copy. If you have information about a film where a main character wears chucks, contact us at films@chucksconnection.com.