A ChucksConnection Film Review
Dan Monahan, Mark Herrier, and Roger Wilson wear optical white high top Converse "Chuck Taylor" All Stars in the film.
Wyatt Knight wears black high top Converse "Chuck Taylor" All Stars in the film.
Porky's
by Hal Peterson
Pee Wee peers into the girls locker room.
Porky's is the story of six high school boys — Pee Wee (Dan Monohan), Billy (Mark Herrier), Mickey (Roger Wilson), Tim (Cyril O'Reilly), Tommy (Wyatt Knight), and Meat (Tony Ganos) — living in Angel Beach, Florida, in 1954. They hang out together, play on the basketball team together, pull pranks on each other, and constantly talk about their desires for sex. The boys want to have their first experiences with women, but the only place that this is possible in the repressive atmosphere of the fifties is at a notorious honky-tonk bar and brothel, Porky's, which is just across the county line. But when they go there, Porky (Chuck Mitchell), the owner of the brothel, takes great delight in ripping off and humiliating the boys, and ends up dumping them in the swamp underneath the bar by the use of a secret trap door. Porky does this because they are naive boys from Angel Beach — which he considers to be the home of elitist wimps, and because his brother-in-law is the county sheriff (Alex Karras) with absolute authority to do what he pleases, so he knows that he can get away with it. The boys want revenge, and Mickey keeps going back there but always ends up getting beat up by the bouncers.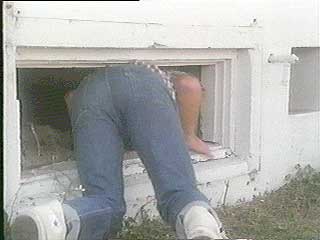 Pee Wee and his friends sneak into the girl's gym.
Meanwhile, life goes on in Angel Beach. The movie is filled with all kinds of sexual pranks and situations, some of which are hilarious. We see the classic "watching the girls in the shower scene" and a number of practical jokes that the boys play on each other, especially Pee Wee. There is also a running set of jokes involving the male physical education coaches and Ms. Balbraker, the women's coach. The scene where she confronts them in front of the school principal and demands a "line-up" has to be the funniest part of the movie. Besides the general redneck and sleazy sexual humor, the movie also deals with the small town prejudice that a new student, Brian Schwartz, faces at the school. However, Brian, turns out to be okay, and a real leader. When he sucessfully fights off tough-guy Tommy, who is picking on him for being Jewish and from the north, things change. Brian persuades them to forget their differences and organize a plan with a lot of the Angel Beach townpeople to defeat Porky and his gang, after Mickey comes back from Porky's one last time, seriously injured.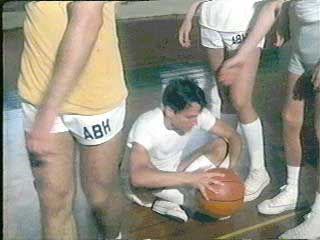 The Angel Beach High School basketball team wears white Chuck Taylor high tops.
This film is in the same class as Losin' It and Bachelor Party — not much of a story, but a humorous diversion if you like coming of age stories with a lot of sexual innuedos and slapstick humor. Although most of it is pretty implausible, making you wonder what is in the water supply in Angel Beach, there are parts that will definitely make you laugh.
Tommy is bested in a fight with Brian.
Best Chucks Scene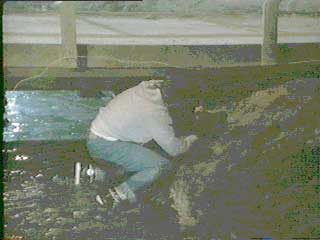 Tommy saws into the pier at Porky's.
There are a lot of chucks shots in this film, mostly white high tops worn by Pee Wee and the Angel Beach basketball team, but Tommy wears black high tops. The best chucks scene is when the guys from Angel Beach finally get a plan together to get even with Porky, then sneak over there and implement it.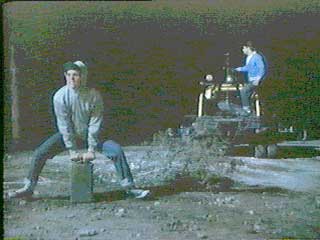 Tommy and his friends get their revenge on Porky's.
Porky's. (1981) Dan Monahan, Mark Herrier, Wyatt Knight, Roger Wilson, Kim Catrell.
Directed by Bob Clark. Categories: Comedy, Sexually Explicit.
ChucksConnection Rating:

MPAA Rating: R
Support the film industry by purchasing genuine DVD, Blue Ray, or streaming copies of these films. Illegal copies only help profiteers. Make sure your money goes to the producers and artists who actually create these films. Still images from the film are used here as teasers to get you to view an authorized copy. If you have information about a film where a main character wears chucks, contact us at films@chucksconnection.com.